By Christina Ameln, CSR | Sustainability Advisor – 
When I write the above title, I am wondering if I am going to be crucified for it. Fashion is not always known for being democratic, sustainable and available all at once. Nonetheless, fashion and retail companies are going through a 'disruption' – there is an increased focus from media and consumers for this industry to do better. A discussion with Xin-Yi Wong, Sustainability Manager for clothing-retail company H&M in the Southeast Asia region, makes you realise this is a company that believes and works at living those three words. This is a company determined to move ahead, to step up to challenges and to continue to improve.
One of the ways H&M is doing better is through its Conscious Exclusive Collection. The company has combined fashion, sustainability and innovation in this recurring collection. The aim is ambitious: a sustainable fashion future. Launched last week, its 2018 collection draws inspiration from 19th century Sweden and the creativity of Karin and Carl Larsson, a couple known for beautiful paintings and tapestries. H&M is taking sustainability quite literally – its dresses are made of materials such as EOCNYL®, a 100% regenerated nylon fibre made from fishnets and other nylon waste, thus helping to reduce the impact of climate change and contribute to clean oceans. For other garments – such as shoes and accessories – Tencel®, recycled polyester and organic linen is used.
Wong is a passionate advocate and brings energy and enthusiasm to the delivery of sustainable fashion. She is a convincing ambassador. "For the second year, we have a transparency layer for the collection shared on our website. This means you can get more in-depth information about the production of the Conscious Exclusive Collection, such as the factory name and address, number of workers each factory employs, worker interviews and information on the materials used. This is a game-changer for the industry. Transparency in the industry is an important catalyst for positive change in the supply chain. This keeps both brands and supplier factories accountable and also enables customers to make more sustainable choices."
As we sit in Ho Chi Minh and discuss H&M in Vietnam, Wong states, "Infrastructure and governance that supports sustainable action is lacking in the region. This is a challenge – but it is also an opportunity for us to lead the change and become more creative and resourceful in our approach." In the last six months, H&M has opened three stores in Vietnam. Education on sustainability has been at the forefront of these openings. And it starts with own employees. As Wong explained: "Every new colleague that joins the company is trained to understand why sustainability is at the core of our business and how they can work on it. Only with engaged colleagues will we be able to effectively spread the word about sustainable fashion amongst our consumers."
Wong realizes that while there is a core group of consumers interested in sustainable fashion in the region, the majority of customers are not aware and need to be further engaged. And I can agree with Wong. In conjunction with its 2018 Conscious Exclusive Collection launch, it held the 'Fashion Conversations' with Elle and the university RMIT that brought media, stakeholders and influencers to spark awareness and dialogue on sustainable fashion. While the room was filled with an engaged and interested audience (me included), there is still a ways to reach an interested audience outside this niche.
On the bright side, the company continues to engage and educate. H&M actively communicates about its Conscious Exclusive Collection products and educates consumers to take action through its garment collecting initiative. In 2013, the company was first to launch a global garment collecting initiative and, while a new market, this can also be found in its Vietnam stores. I experienced the initiative first-hand at the recent Conscious Exclusive Collection preview event in Ho Chi Minh City. All invited were encouraged to bring unwanted garments or home textiles from any brand and drop them off in its recycle bins. H&M committed to give them a second life. It does this by sending them to its global partner I:CO, which gets them to the nearest sorting plant. Clothing that can be worn again will be marketed as second-hand goods; other materials will be re-used as textile fibres or insulating materials, e.g. for the auto industry. For me it is a great feeling to put unwanted clothing in a recycle rather than a rubbish bin, knowing it will get a second-life.  In Vietnam, they have already seen an increase in participation.
The circle continues as H&M does not profit from this initiative. Any surplus is donated to research on textile recycling and social projects. Currently, the H&M Foundation has a four-year partnership with the Hong Kong Research Institute of Textiles and Apparel (HKRITA) to develop at least one ready technology to recycle clothes from blended textiles. This can sound overly scientific for fashion but there is an excitement already after only a year. With focus and partnership, HKRITA has found a chemical process to separate and recycle cotton and polyester blends into new fibres. This represents progress for sustainable fashion: our clothing can have multiple lives.
Wong wraps up our time together with some personal insights: "I wanted a purposeful and meaningful job. We spend most of our life at work and it is important to have one that brings a positive influence to the world. I want to work for a company that takes responsibility for its impact and wants to do better. Sustainability is everyone's shared responsibility. I am optimistic that change will happen. Southeast Asia has the potential to be a hub for innovative sustainable solutions, building on the creativity, resourcefulness and resilience of the people."
I concur. There is a future for sustainable fashion. Now let's bring it to the masses!
---
H&M on Being Sustainable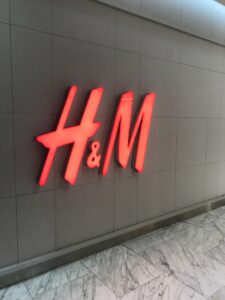 H&M believes that sustainable fashion and design should be democratised and made available to everyone today, tomorrow and for generations to come. Its vision is to lead the change towards circular and renewable fashion, while being a fair and equal company. To achieve this, it has developed an ambitious strategy, with a broad range of external and internal experts. Its strategy follows a science-based approach wherever possible. Using their size and scale, it is working to catalyse these systemic changes across its own operations and the wider industry to ensure that it can continue to provide fashion and quality at the best price in a sustainable way for many generations to come. The company strongly believes that innovation and collaboration is the key for a sustainable future.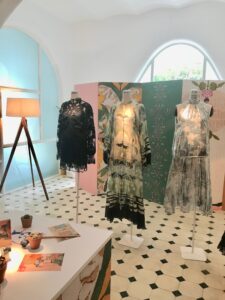 In line with its vision, it has set a few ambitious goals such as to use 100% recycled or other sustainably sourced materials by 2030 and to become climate positive throughout its value chain by 2040. On the social side, its main priorities are to deliver the goals it set for 2018, for example, ensuring supplier factories producing 50% of their product volume is using the Fair Wage Method by 2018 (2017: 40%) and for 90% of its business partners to regard H&M group as a fair business partner by 2018 (2017: 94%). Looking beyond this, it will focus on maintaining the stability of its production markets to ensure the provision of good and fair opportunities for workers.
 For more information: 
First published on April 23, 2018 on Linkedin.