By Christina Ameln, CSR | Sustainability Advisor – 
Have you ever heard of the adage "don't judge a book by its cover"? I was reminded of it recently when I heard Olivia Hearn speak about her work with vulnerable children. I first met Olivia in a glamourous setting, in which we were both dressed to the nines for a Christmas ball. Hearn is a tall and elegant Brit – the type of woman who makes me wish I was taller! But Olivia's charm and easy manner made it impossible to feel jealous. She moved to Vietnam from London over a year ago to work at the Christina Noble Children's Foundation, where she now leads marketing, communications and business development. While our initial meeting was light and superficial, I saw a different side of her as she described her work in more depth. Clearly this "book" contains an exciting story of valour and courage. Not all of us have what it takes to spend our time and energy on Vietnam's most disadvantaged children.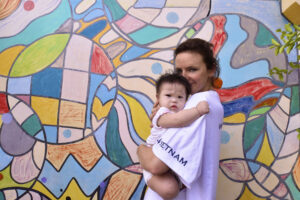 Christina Noble launched the charity the Christina Noble Children's Foundation (CNCF) some 30 years ago. It is now led by her daughter, CEO Helenita Noble, who's first initiative when undertaking the role of CEO in 2016 was to secure her Mother's legacy by transitioning from a founder/family operated organisation to an independent sustainable NGO with an international governing board of non-executive directors. One of the longest-serving NGOs in Vietnam, it is dedicated to serving the physical, medical, educational and emotional needs of vulnerable children and their communities. And they are vulnerable in all senses of the word; many are orphaned, homeless and/or suffering from disabilities and disease. Hearn is humble when I ask her where she finds the courage to do this work: "However challenging working for a grassroots NGO can sometimes be, courage is not something we need to find to enable to do our work, we are surrounded by it every day – by the children in our care. Children are resilient, they are tough and they inspire us to drive forward for what we believe in – to make their lives as healthy and happy as possible. To give them the childhood they deserve."
While there can be sadness in this kind of work, with an over-exposure to the darker side of humanity, Hearn finds "joy, enthusiasm, happiness, hope, passion and love" from both the children and the team. "Despite the tragic circumstances these children come from, there are constant smiles and the sound of laughter." Hearn's personal struggle is how to communicate the deep-seated commitment of the Foundation to support these children and to help them reach their full potential.
To get support one must establish trust. Trust in the governance and sustainability of an NGO or charity can sometimes have mixed reviews in Vietnam. Over the years, the Foundation has seen, "quite rightly so", the global landscape of charities change considerably. There are, understandably, increasing expectations to demonstrate robust governance, greater transparency and more financial propriety to all those who support charities. Since this has always been in the forefront of the Foundation's work, Hearn says that these trends have led the team "to adjust our way of working, not our way of thinking." Hearn goes further: "With nearly 30 years of experience working on the ground within the NGO field in Vietnam, one of the reason CNCF is still able to do the work it does today is by ensuring sustainability, transparency and accountability at all times to our long-term supporters. We seek to ensure they know exactly where their support is going and, with that, what CNCF's longer-term development strategy is."
Trust goes both ways. For example, when working with corporate partners, CNCF asks a series of initial questions on mutual values, good fit, impact, shared goals and responsibility. CNCF wants to make sure that there are clear, shared goals for each partnership. Some projects are focused on development of a child's potential through education, healthcare and community development programs. Other projects support of the running of the organisation, providing critical assistance related to staff training, marketing and communications, which are also essential to the long-term development of CNCF.
With children it is all about long-term commitment. Same size approaches usually do not work as children have different needs and concerns (I need a reminder here to with my two children as well). From the beginning, Christina Noble stated that "every child is an individual", thus ensuring that the Foundation responds to the needs, personalities and dreams of each individual child. And as many of us know who work in partnerships, on sustainability or in the CSR field, it is important to remember that we are not dealing with products or services but with the lives and futures of children, their families and communities – impact is for life.
One CNCF program that demonstrates how impact can be measured is the Child Sponsorship Program. Through this program, sponsors are assigned a child and a team member provides regular updates on the child's well-being and development. This encourages a lifelong bond and a child can grow, progress and thrive from this support. An even bigger testament to the Foundation's impact on lives and futures is the fact that many of its older children are now graduating from university. They are moving with a sense of pride to opportunities they could not have dreamed of without support to break the grinding, inter-generational cycle of poverty.
As I continue to watch Hearn navigate – with skill and elegance – her work with the Foundation and all that the combination of children and poverty entails, I can tell that that the spirit of Christina Noble and the mission of CNCF resonate deeply with her. Hearn recounts what Christina Noble once said: "When I began here in Vietnam, people said what I wanted to do was impossible. 'You are only one person', they said. But when I was a child, I needed only one person to understand my suffering and my pain. One person to love me. One is very important. There are many ones and they add up".
Hearn supports this vision wholeheartedly, "Every child matters, and it can take just one person to make a difference." It also takes courage to make a difference. Let's all reach deep within ourselves and find that courage – let's be part of the "ones" who add up!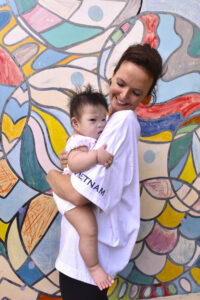 ---
About the Christina Noble Children's Foundation
The Christina Noble Children's Foundation is dedicated to serving the physical, medical, educational and emotional needs of vulnerable children. We believe that every child deserves love, respect and freedom from all forms of exploitation. We establish long-term relationships with the children we support and empower them to live happy, emotionally rich, and independent lives.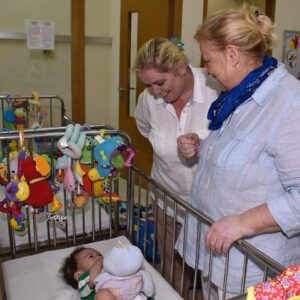 Since inception CNCF has established 160 programs across Vietnam and Mongolia, providing services to vulnerable children and their families and poor rural communities. These projects have directly impacted the lives of over one million children and adults.
Our programs address poverty at a grassroots level with a long-term focus on providing a nurturing environment for personal development. All children who benefit from our programs are deeply burdened by poverty. In addition, many are orphaned and homeless and/or suffer from disabilities and disease. Because of these factors, almost all are extremely vulnerable and at high risk of exploitation. Thus, CNCF's work is not only life-enhancing, it is lifesaving.
Our primary focus as we move towards our 30th anniversary in 2019 is to lay strong foundations for the next 30 years. To achieve this we aim to drive a more efficient and streamlined fundraising program to ensure maximum benefits flow to the programs, to ensure world-class governance and transparency standards in order to attract and retain larger donors and to lay out a strategy for the next 30 years.
Call to Action
'I Matter' campaign- #imatter.
This campaign focuses on the many children that they care for as well as those that are still being marginalised, suffering in isolation, and who continue to be denied even their most basic human rights; education, healthcare, shelter and nutrition. CNCF asks for your proactive engagement with this campaign to help them get this message out far and wide so they can help more children that continue to be lost and abandoned and remain in very desperate need of their help.
To find out how you can impact a child's life directly for just $10, visit CNCF at www.cncf.org/imatter.
Vietnam Challenge
Every year CNCF hosts a physical Vietnam challenge in order to raise well-needed funds for the inspirational children here on our doorstep, some of the most vulnerable and disadvantaged children in the world.
They have spaces for October's challenge and are recruiting those who want to make 2018 a year to remember – this is an incredible personal challenge as well as something truly life-changing for some very special little people here in this beautiful country.
Further challenge specifics: www.cncf.org/north-vietnam-noble-challenge
All funds raised go directly to their childcare programmes, they can promise you an experience you will never forget – emotionally and physically demanding but every minute worth it when you meet the children who will be directly supported by the challenge.
If you know of any keen cyclists/ hikers/ adventure seekers who might be up for this unique CNCF adventure, please do kindly pass this on – their volunteer challenge coordinator Jane at jane.barrell@cncf.org can answer any queries. It caters for all levels of ability – those who want to push themselves can do so to their limit, those less experienced can do this at their own pace.
For more information:
• Helenita Noble –  Profile: www.linkedin.com/in/helenita-pistolas
• Olivia Hearn – Profile: www.linkedin.com/in/olivia-hearn or email – olivia.hearn@cncf.org
• Link to website – www.cncf.org
• LinkedIn: www.linkedin.com/company/christina-noble-children's-foundation-international
• Facebook: @ChristinaNobleChildrensFoundationInt
• Twitter: https://twitter.com/cncf_int?lang=en
• Instagram: christina_noble_foundation
First published on June 8, 2019 on Linkedin.