By Mark Ratcliff, Writer & Photographer –
Vietnam is an unbelievably lucky country – it's geographical gifts have ensured that not only can it provide enough food for its own 96-million strong population but it's also been able to share a generous surplus with global markets. Despite its natural advantages, Vietnam's exponential yield growth over the past few decades can undeniably be attributed to the widespread use of chemical fertilizers, herbicides, pesticides, and growth hormones in livestock. Organic farming offers a chance to find an equilibrium and avoid the environmental damage from an ever-increasing dependence on chemicals.
There is much confusion around the practice though – what does organic mean exactly and how can we assure the labels are accurate?
This article will give insight into the regulatory and certification process and how some organizations are ensuring clarity for organics in Vietnam.
What is Organic Farming?
Organic agriculture has been a cornerstone of civilization since our distant ancestors started to cultivate crops and domesticate animals some 10,000 years ago. It was a crucial step in our development, aided our understanding of natural systems, and drove the advancement of culture, religion, and politics. 
In absolute terms, organic farming means any crop cultivation or animal husbandry using:
no synthetic chemical fertilizers, herbicides, pesticides.
no additives in feed or antibiotics for livestock.
no Genetically Modified Organisms (GMOs).
Farmers worldwide have been dramatically diverging from these concepts over the past century and most have dropped the vital organic farming techniques such as crop rotation, the reuse of animal and organic waste, and sustainable irrigation methods. The increase of chemical use has ensured high yields but it's come at a cost of huge losses to biodiversity, poisoned soils and waterways, and destroyed the ability of many natural systems to self-regulate.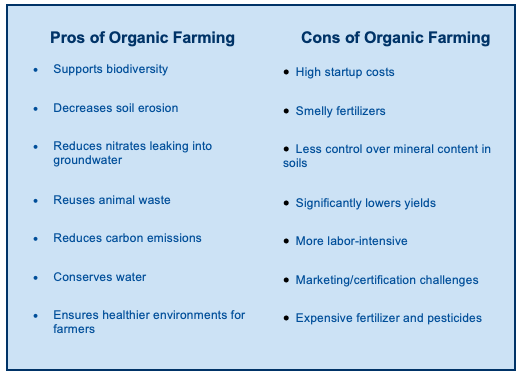 Organic Standards and Labels
Globally, there are dozens of different national and industry-derived organic labels – they all share similarities but they also have their own unique requirements too. In reality, very few are 100% chemical-free and many certifications actually allow a certain amount of pesticides, while others have provisions for organically-derived herbicides and fungicides.
Certification not only gives consumers confidence that what their buying has actually been produced by set standards, but they are also important tools in which farmers and producers can better understand what's required from them too.
Which Organic Certificates are Used in Vietnam?
USDA Organic (USA), JAS (Japan), and EU Organic (European Union) are the most common organic labels seen on Vietnamese products, this is primarily to appease export markets for which the vast majority of organic goods are destined for. Domestic demand is growing and Vietnam currently has its own national organic standard under development.
How are Organics in Certified in Vietnam? 
Third-Party Certification
Third-party methods use independent organizations to ensure a particular certificate's guidelines are met and maintained by producers. Compliance is a time-consuming and complex process of documentation, inspection, and record-keeping, however, this does ensure conformity and high transparency.
Of course, there are also some downsides too. Third-party certification is commonly criticized as being both too centralized and expensive – this ensures that it's usually irrelevant and impossible for many small to medium producers to participate. 
Third-party certifiers in Vietnam: 
There are currently two registered third-party certifiers in Vietnam: Control Union and NHO QScert. Control Union is an international certification council and is the most active and visible organic certifier in Vietnam. NHO QScert, a Vietnamese organization, is a relative new-comer but poised to have a much larger presence over the coming years.
Participatory Guarantee Systems (PGS)
PGS initiatives are what IFOAM Organics International refers to as "locally focused quality assurance systems" and is the only real alternative to third-party certification. Often initiated by NGOs and cooperatives, PGS stresses active participation, trust, and cooperative knowledge networking, which ensures they remain much more suitable for smaller markets and supply chains. These grass-roots programs are built and maintained by their members meaning they're much more affordable for and can easily account for a range of different environmental conditions, producers, and solutions.
PGS Initiatives in Vietnam:
There are only a few PGS projects currently operating in Vietnam. The Vietnam Farmer Association is a Danish project that has been working in and around Hanoi since 2008 and has since spread its efforts to the central coast region near to Hoi An. Seed to Table is another community-driven initiative currently operating to enhance organic farming and protect natural resources in Ben Tre on the Mekong Delta.
While these PGS certifications aren't officially recognized by the Vietnamese government they are commonly accepted by retailers and consumers and continue to actively educate and work towards ensuring smallholders benefit from adopting organic principles.   '
Mekong Organics: Enhancing Organic Farming in Vietnam
Most Vietnamese organic farmers, and those wishing to make the switch, are individual smallholders. Most are without proper support and many unfortunately fail to cope with unforeseen problems, including the initial loss in profit – an inherent feature of organic farming. Mekong Organics, an Australian-based organization, has identified a knowledge gap between producers, certifiers, and markets and has developed a solution they believe will give organic farmers in Vietnam a better chance to succeed.
I recently had the opportunity to have a chat with Dr. Kien, the director of Mekong Organics, about what they're doing for local farmers and why. He says that while "Vietnamese farmers are highly skilled and able to quickly scale up production of a wide variety of crops, they often struggle with organic methods due to a lack of knowledge and restrictions in market access". 
To try and overcome this, Mekong Organics is continuing to expand an "organics knowledge platform" that not only builds a network between Vietnamese farmers but incorporates international and local universities, NGOs, the private sector, and government agencies. "Fostering participation through strong community networks," Dr. Kien notes, "is vital for the success of small-scale farmers when switching to organics."
The language barrier is another major hurdle in getting information on organics to smallholders. "Most Vietnamese farmers can't read English and, therefore, can't fully understand the certification standards and processes", says Dr. Kien. To get underway, landholders are often left with little choice but to hire expensive consultants – even if they can afford it they're still left in the dark with specifics of certification and market variables.
Mekong Organics takes on this consultancy role, albeit through a more community-driven approach. They ensure farmers learn about and understand important environmental, social, and economic factors when choosing what to grow and when. Dr. Kien is understandably proud of what they have achieved. "We help farmers set long-term goals and to enhance farm management techniques but we also work on developing business skills that make it easier for them to access technology and markets." In the future, there will be an integrated online platform to help make it even easier for members to participate and expand their knowledge.
The confusion and misunderstandings about organics aren't reserved for consumers, in fact, primary producers in Vietnam have arguably larger and more complex challenges. However, with a proliferation of certifiers and organizations willing to share knowledge and develop strong and cooperative networks, Vietnam's organic smallholders and producers will have much better chances of success and longevity.
While there's still a long way to go, it's reassuring to know that steps are being made in helping a cleaner, greener, and more sustainable Vietnam to develop.
---