By Mihaela Chirca, Project Manager, Institut Européen de Coopération et de Développement (IECD) – 
Schneider Electric is sharing the voices of its stakeholders on sustainability, partnerships and impact in Vietnam on the Sustainable Vietnam platform. To work on long-term impact and lift-up tomorrow's skills, Schneider Electric partners with various NGOs. One of them is the Institut Européen de Coopération et de Développement (IECD) that works with disadvantaged youth and building a next generation of skilled workers. Project manager Mihaela Chirca talks about their impact and long-term partnership globally and in Vietnam.
I am Mihaela Chirca, and I am working as a Project Manager for Institut Européen de Coopération et de Développement (IECD). IECD is a French non-governmental organization running capacity building programs towards social and economic development.
After 7 years working for the private sector, I joined the development sector, as a way to find more purpose in the job I wake up for every day! When making this professional move, however, I was determined to keep the positive sides I had the chance to experience while working for the industrial sector, mainly the high-level expectations and professionalism.
I found this and more at IECD!
Upon joining the team in Vietnam more than 3 years ago, I encountered a dedicated team, a result-oriented approach and, above all, I stepped into a challenging but also very humane and positive working environment
Vocational Training' s Challenges in Vietnam
When arriving in Ho Chi Minh City, I realized that Vietnam's population is young, its economy is booming, and its industrial sector is full of opportunities!
I think that it should be everyone's job, but especially from the younger generation we have high expectations to make the world more sustainable. And yet, all young Vietnamese are not given the opportunities to reach that goal: they suffer the most from unemployment or they only have informal jobs, while companies often struggle to find the right candidates, with the required set of technical qualifications and life skills.
This is where IECD and the Seed of Hope project come in.
IECD & the Seeds of Hope Program
We strongly believe that vocational training, when done right, could therefore be one of the solutions to break this vicious circle by providing companies with a trained workforce and young graduates with interesting job opportunities.
For more than three years now, the Seeds of Hope program aims at doing just that: fostering the sustainable social and professional integration of disadvantaged young people by supporting vocational training schools in the field of electricity and automotive maintenance.
To ensure the success of the program, partnerships and collaborations are central to Seeds of Hope. The program is developed by the French NGO IECD and implemented in collaboration with local and international partners. Schools, companies, experts and trainers … the vocational training ecosystem must work hand-in-hand to successfully close the gap between the job market's needs and students' skills. To do so, the project focuses on improving the training curricula, training the teachers, upgrading the schools' practice equipment and creating bridges between companies and schools.
Aiming for sustainable changes in the vocational training system and in teaching practices, co-construction is key to the process: if Seeds of Hope brings in tools, expertise and support, the vocational training schools and their teachers and staff are the main actors all along the way, from needs' analysis, to the implementation, evaluation and continuous improvement of the program. (https://www.iecd.org/en/projets/vietnam-training-young-vietnamese-for-careers-in-electricity-and-car-mechanics/)
Global Collaboration with Schneider Electric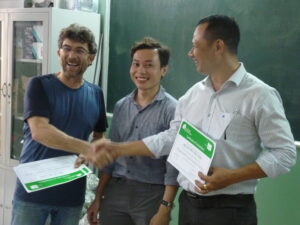 Among Seeds of Hope's private partners, Schneider Electric has supported the project since it was first launched in Lebanon in 2007. Several projects in five countries and more than ten years later, Schneider Electric has renewed its support, contributing to the training of the next generation of Vietnamese electricians.
Schneider Electric's VolunteerIng Platform 
Beyond the financial partnership, our collaboration also involves operational support, mainly through "Schneider Teachers", the in-house competencies-based volunteering program that brings together, on the one hand, NGOs with a need and, on the other hand, Schneider employees with specific competencies.
As a former Schneider Electric employee, I am convinced that this program is not only useful for the partner NGOs, but also valuable for the employees that seize this opportunity to give a hand by using their skills and professional competencies in a rewarding way!
A Win-Win Project
In the long run, the project is definitely a win-win for everyone involved, including of course the Seeds of Hope team. Our team finds great satisfaction, motivation and pride in contributing to something useful, that caters to a strong need and supports local development in a sustainable way.
Even if it can be sometimes a bumpy road!  What prevails, however, is a sense of achieving personal and interpersonal growth, learning how to overcome challenges and to convert them into new ideas and opportunities.
In the words of Nguyen Thi Thuy Thuy, Seeds of Hope project officer:
"Challenges, or sometimes struggles even, have been a part of our work in the last 3 years. But they were there only to help us develop stronger. And, to me, they were probably what brought me growth, professionally and personally. I cherish those 'rainy days' for helping me realize how I have been contributing to our project and its cause!"
In this video , learn more about the project and the story of Nhan, one of the students! After graduation, he is now working as an electrician for the building maintenance company where he successfully completed his internship in 2019.
If, by now, the first stepping stones have been successfully laid, it's time for consolidation, continuous improvement and scaling-up, always keeping in mind the common objective of bringing a positive and sustainable change in the lives of young people and their community.
---
To read the full series – 
To read about Schneider Electric on Sustainable Vietnam – THE ENERGY PARADOX: SCHNEIDER ELECTRIC ON BRINGING LIGHT – By Christina Ameln, Sustainability Strategist, Purple IVY
---
Schneider Electric explained in short:
---
All views and opinions expressed on this site are those of the individual authors and comments on this site are the sole responsibility of the individual contributor.