By Marian Dang, Sustainability Manager, H&M Southeast Asia –
''Are you going to work with trees?''
That is the reply I could hear in my head when I imagined telling my Vietnamese parents about my job as a sustainability manager at H&M Southeast Asia, including Vietnam. While born and raised in the Netherlands, the Vietnamese culture was heavily ingrained in my upbringing.  My parents were boat refugees who fled the country after the Vietnam War in the 1980s: their focus was on survival. One should work hard to become an economist, a lawyer or a doctor.  Meeting the current needs without compromising the needs of future generations was not a topic at home.
However, I have been more involved with sustainability than I have been aware of, starting when I was 8 years old by actively handing in plastic bottles for recycling at supermarkets for 0,25 Dutch Gulden Cents. While I am now not an economist, a lawyer or a doctor; I am passionate about fashion, the Dutch sustainability mindset and my Vietnamese roots – all of these come together in my current work.
It is a privilege and highly inspiring to be part of a large organization that puts sustainability at the core of its business and takes the responsibility to truly care for the people and planet. It is a fact that fashion in general must change in order to ensure long term and meaningful growth, while positively contributing to the environment and society at large. H&M Group takes on this challenge and is committed to transform fashion into a circular and climate positive one, while being a fair and equal company.
H&M Group
In 1947, Erling Persson opened a ladies-wear store called Hennes in small town called Västerås in Sweden. Today, H&M is part of the H&M Group, a global design company, consisting of 8 brands and employing around 179,000 people worldwide. Since the start, the business has been about making fashion and the joy it can bring accessible to everyone — democratizing what had previously been a privilege of the few.
However, the world today looks different. More people than ever before are enjoying decent incomes and good standards of living. The business idea of making fashion accessible and enjoyable for all remains. But given the environmental and social pressures faced by our planet, we must change how we do that.
Fashion Transformation
A transformation is needed to secure successful long-term growth while serving a greater purpose as a company. Fashion needs to change and as part of its journey, H&M Group is finding new ways of working, rethinking its operations, developing new technologies, new business models, new processes and a new type of customer relations.
Circularity
For H&M this means working towards circular and climate positive fashion, while being a fair and equal company. By doing so, the company aims to use its size and scale to lead this change and transform the fashion industry altogether.
Innovation
It means continuously innovating and using technology in achieving full circularity. Innovations when it comes to finding new sustainable materials as leather from wine waste, color dye from coffee waste, fibers from citrus peel to mention a few – but even so, technology is needed to enable both sustainable materials and recycling at scale.
Collaboration
It means strengthen existing collaborations and establishing new ones with partners and innovators to fully transform fashion throughout the whole value chain, prioritizing the environment and society. This includes other fashion brands, global trade unions, academics, researchers, to name a few – as well as the ILO, the UN Global Compact, WWF, the Ellen MacArthur Foundation, Solidaridad and many more.
Raising Mindsets
It also means raising awareness and engaging all employees, customers and external stakeholders on sustainable fashion by encouraging reducing, reusing, recycling and by introducing different business models such as rental and second hand.
But it also means, keeping people at the heart of the business by treating them fairly, supporting their rights, and celebrating their diverse talents and perspectives.
COVID-19
Covid-19 has highlighted the urgency of sustainability. Not only is COVID-19 affecting the planet, people, communities and businesses all over the world, urging everyone to cooperate and support one and another, COVID-19 has also shed light on the demand for good value.
H&M Group is more than ever committed to speed up its journey towards a sustainable fashion future and putting sustainability at the core of the business is a big opportunity to accelerate this pace of change.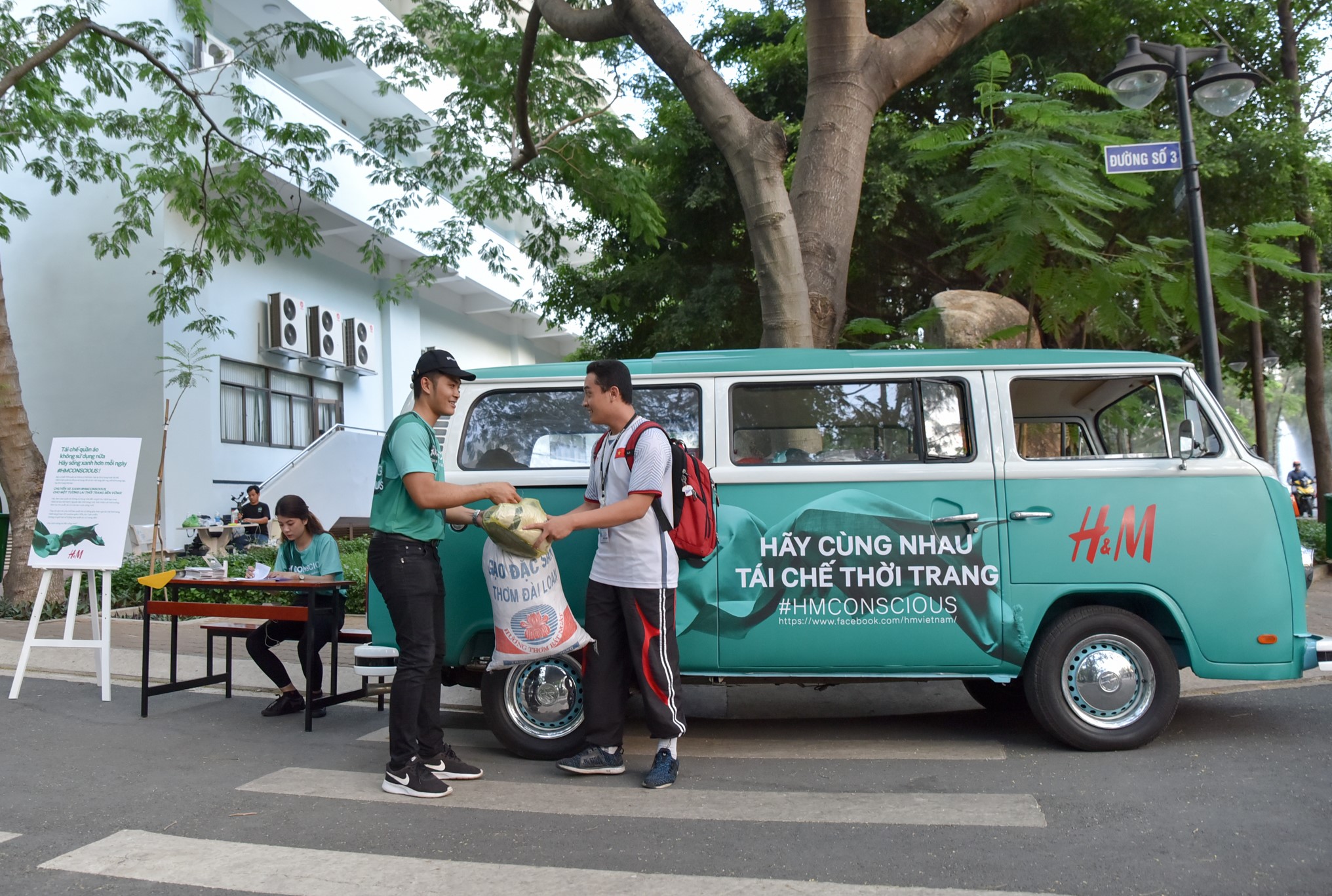 H&M Vietnam
H&M opened its first store in Vietnam in September 2017 in Ho Chi Minh City. The brand has been well perceived by Vietnamese customers and over a period of 3 years, the brand has expanded to 9 stores in 3 cities. Operating in a new market brings up many opportunities to raise awareness and bring customers along the journey towards sustainable fashion right at the start of market entry.
Garment Collecting Program
One of the key initiatives is the garment collecting recycling program, where customers are encouraged to bring in unwanted clothes to any of the H&M stores. H&M was the first retailer to initiate this program globally in 2013, which is now available at all H&M stores in Vietnam.
Responsible consumption, increasing the lifespan of garments and getting into the mindset of reusing and recycling to prevent fashion from being wasted and ending up on our landfills is needed to close the loop and become fully circular. Increased communication on why we need to work towards sustainable fashion and inspiring Vietnamese customers on what small actions we can all take to support our planet and people is vital.
Conscious Collection
Similarly to other markets, H&M Conscious Collections and Conscious Exclusive, made from more innovative sustainable materials are available at H&M Vietnam. Aside from the Conscious (Exclusive) Collections launched twice per year, garments with more sustainable materials can be found in stores throughout the year throughout all concepts of ladies, men and kids. These products can be recognized by the green hangtag.
Eventually, by 2030 all materials used will be from recycled or other sustainable sourced materials. In the meantime, it is about raising awareness towards customers on the available sustainable materials and make these materials more accessible to all.
Local Presence
H&M Vietnam aims to add value by being a global brand while at the same time focus on local relevancy.  As such, H&M Vietnam has supported different local community projects as for example, the support of Saigon Children's Charity that work with promoting education for kids from low income families.
As we have all experienced, this year has proven a challenging one. In light of COVID-19, a special in-store promotion was offered to nurses in Vietnam on International Nurse day.  We have also this year supported in Central Vietnam.
In just a month, the region got struck by three floods, four storms and a series of landslides, flooding over 177,000 households and displacing tens of thousands of people. In collaboration with the Vietnam Volunteer Information Resource Center (VVIRC), H&M Vietnam donated 2,740 pieces of new garments to adults and kids last November. H&M Foundation also made a 100,000USD emergency relief donation to Vietnam to meet the immediate needs of the most vulnerable people through the provision of household items, water purification tablets, water tanks, cash grants, food packs and more.
In addition to these emergencies, sustainability is present in every part of the business, whether it is the recycling routine in stores where store staff are required to segregate waste properly or raising awareness on Inclusive & Diversity via initiatives as the pride parade organized by H&M Vietnam crew in Hanoi and Ho Chi Minh.
The heart for sustainability and strong company values are highly present, contributing to H&M Vietnam being honored as one of Asia's Best Companies To Work For in 2019 by HR Asia.
High Potential
Continuous effort is needed to bring sustainability on top of mind to the Vietnamese population. However, given the Vietnamese culture, a one of a kind, continuous growing and high solidary country, there is a great potential and I am looking forward to working all together to further drive circular fashion within the country.
In fact, coming from a very modest family, throwing clothes away was not an option. Socks with 3 holes would be repaired by mom, re-worn and re-used over and over again.
So maybe after all, 'meeting the current needs without compromising the needs of future generations' was unconsciously more ingrained in the Vietnamese upbringing than I originally thought?
---
For more information – click to Meet Sustainable Contributor: Dang Thi Marian.
All views and opinions expressed on this site are those of the individual authors and comments on this site are the sole responsibility of the individual contributor.