By Christina Ameln, CSR | Sustainability Advisor – 
Samuel Maruta, Chairman and Co-Founder of Marou Chocolate Company, is divulging his chocolate formula. 
I have long awaited the day when I could combine my three favorite words in one sentence: chocolate, sustainability and impact.  I am super excited. I just 'looove' chocolate!
And chocolate from Vietnam – which is definitely something one does not automatically link together. Marou Chocolate Company is changing that. It has been manufacturing chocolate in Ho Chi Minh City since 2011, using the highest quality Vietnamese cacao to produce single-origin bean-to-bar chocolates. The company name rolls off the tongue, in contrast to how I gobble down its scrumptious chocolate. (Spoiler alert: I have no shame when it comes to chocolate consumption.) It is a lovely combination of the founders' family names: Samuel Maruta (Chairman) and Vincent Mourou (CEO).
And in addition to me 'loooving' chocolate, I am convinced that Samuel Maruta and I were destined to meet….
First: I lived many years in Switzerland, which for many is the 'centre of the universe' for chocolate lovers. He works in chocolate…
Second: We both went to the University of Kent at Canterbury… ok, ok, not at the same time but not so far apart either…
And third: We are both living in Vietnam and are staunch promoters of sustainability. I get to highlight what he is doing in this regard…
If this is not meant to be, 'pigs might fly'…
(Please don't fly!)
A Chocolate Mission 
But the Marou Chocolate Company is flying high! Marou's mission is to make world-class chocolate using Vietnamese cacao. From the start, they have been committed to strong relationships, quality standards and sustainability. I am excited by the power of combining these three concepts. Maruta confirms that: "Social Responsibility and being sustainable is integral to Marou's business model and informs every aspect of our operations. The taste of chocolate depends on the quality of the cacao we buy and the quality of the cacao is something we nurture through relationships at the farm and in our factory."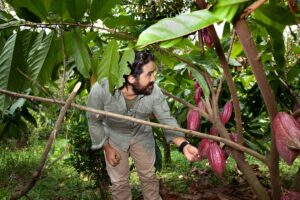 Equally important, Maruta states: "it was part of the simple things we set out to do at the beginning: have a positive environmental impact, work hand-in-hand with farmers and pay good wages to our employees". These fundamental principles have helped this small, award-winning craft chocolate-maker expand rapidly. Marou chocolate is now sold in hundreds of point-of-sales in over 20 countries worldwide. 
Marou Chocolate sees promoting sustainability as part of its central mission and strategy. It is a strong advocate of sustainability both internally and externally, making the case for sustainable business practices even to the most sceptical stakeholders. This takes time and energy – as there are many that do not see the advantages of working in this way. But Maruta believes that leadership on business and sustainability go hand-in-hand.  "We aim to be at the leading edge of our industry, even if most people don't realize what it means". I would add "yet" to the end of his sentence, as the gospels of sustainability and social responsibility are spreading fast.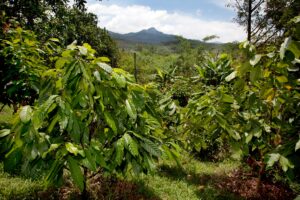 Making the business case for sustainability and social responsibility is slightly different for each group of stakeholders. For farmers, pricing is a strong incentive. For employees, it is listening to people's aspirations and providing a positive, challenging and professional environment. For investors is emphasizing the benefits of a 'long-term' perspective and linking value creation to organic growth. Finally, with peers it is providing space for open dialogue and exchange on concepts and best practices. 
And when I ask Maruta if Marou Chocolate is a role model, he responds modestly: "I think so". I believe that's an understatement – there is more to Marou chocolate than pretty packaging and great taste.
Behind the Wrapping 
Marou sees the farmers with whom it collaborates as an integral part of its business model. It believes that strong and positive relationships with farmers ensure higher quality returns on all sides. These relationships are based on several factors. 
First and foremost, Marou pays stable prices that are far higher than the commodity market. Marou underlines why this is important by explaining that: "commodity cacao has been known to use cheap resources and cheap labour to produce a cheap product that economies of scale make profitable".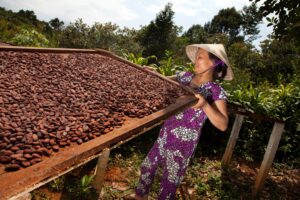 Maruta continues: "We are committed to maintain this higher than normal prices and increase it over time. While the commodity price of cacao fluctuates in response to the predictions of international traders, our prices are constant, allowing farmers to plan and invest in their future."
Marou goes beyond price – it offers technical and physical support to help increase the amount of quality cacao farmers produce. "We give farmers feedback during monthly visits and by phone; we provide more training and stay with them and troubleshoot their fermentation and drying process." 
Moreover, Marou encourages these farmers be sustainable through agroforestry, demonstrating that cacao production can be developed without sacrificing the biodiversity of existing environments. "Cacao grows best in the shade of taller trees, and our farmers intercrop their cacao trees with crops such as coconut, banana, jackfruit and durian." Maruta adds: "Farmers sometimes also feed goats the broken cacao husks".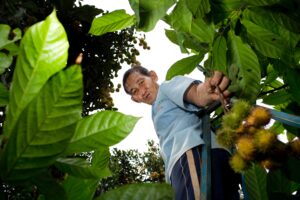 For this chairman and co-founder, sustainable models are the best way forward when working in the agribusiness industry as he corroborates, "it's one that has an oversized impact on the environment, one way or another!" 
And at this point, I am 'loooving' Marou chocolate even more, in case, anyone 'forgot'! 
The Sweet Effect 
The impact of Marou chocolate on local communities is significant. From 2012-2017, Marou increased its cocoa bean purchases from 10 tons to 100 tons which translates to almost 5% of Vietnamese production during that period.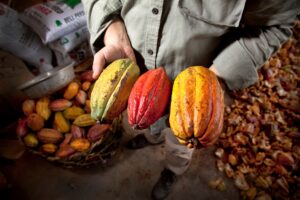 In 2016-2017, Marou made 201 sourcing trips to 25 cacao farmers and spent 5,400 USD on facility improvements for farmers, building concrete patios, fermentation boxes and drying sacks. They also paid for 7,000 cacao seedlings for new planting or replacing trees lost to drought. On top of the improvements, these actions create stronger and positive relationships between the farmers and Marou.
In the same period, the average farmgate price paid by Marou was $3,940 per Ton, if you compare this with the average commodity price of $2,391 per Ton, the premium paid by Marou to the farmers was 65%.
The environmental impact through agroforestry is visible. Starting in 2015, Marou worked with local partners to plant 4,000 cacao seedlings in Lam Dong province. Two years later it provided an additional 5,000 seedlings with a total of 9 genetic varieties. This has made a noticeable impression. The natural diversity of the farm is high with over 500 shade trees per hectare and Maruta confirms that last year "a primatologist from Dao Tien Endangered Species Centre visited our agroforestry site and confirmed that this was a habitat for endangered species such as the Pygmy Slow Loris".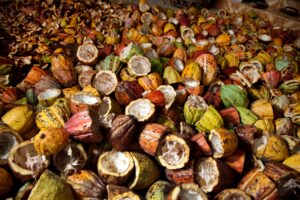 Marou plans to make chocolate with Vietnamese cacao for decades to come. "We see chocolate as a way to raise the reputation of Vietnam's food production both locally and overseas. Although 18% of Vietnam's GDP is from agriculture, most of these crops leave the country as low-priced raw materials. Agriculture products are sold on the commodity market to be refined elsewhere. By processing cacao into chocolate in Vietnam, we are returning the added-value to the country where the crop is grown."  This journey caused the International Cocoa Organisation to recognize Vietnam as a 'fine flavour cocoa origin' in 2016 – making it the second Asian nation to receive the designation. 
The Added Ingredients 
This chocolate formula works in large part because of Marou's employees. Recognizing this, the company invests in their development on several levels. Its efforts in this regard are path-breaking, especially for a smaller company in an emerging market. 
Marou provides private health insurance to its employees, allowing them access to hospitals and clinics. It also encourages healthy living and wellness with yoga classes at the factory and running meetings (I might be late for that meeting…). The company has supported many of its employees to participate in competitive races in Vietnam.
Employees have two key training opportunities. Education in the English language is offered three times a week at the Marou factory. This helps employees communicate better with non-Vietnamese and increases their skills and confidence. In addition, at its confectionary café at Maison Marou, employees are taught the history of chocolate and offered visits to cacao farms so that they can personally convey the Marou story to customers.
While co-founded by two men, Marou's management team is 88% percent women. It feels strongly that "our employees are hired based on their abilities and are compensated without regard to gender". 
"Our ongoing success as a company is linked to the ongoing success of our farmers and employees." Success is transmitted to customers by informing them on what Marou stands for: "As we grow as a company, our goal is to educate customers on the extraordinary work that goes into the chocolate so they will understand that our prices are linked to a value chain that benefits Vietnamese chocolate-makers, farmers and employees". 
More of This Chocolate 
Maruta is clear on where Marou is heading. While they have had challenges in the past, he and CEO and co-founder Vincent Mourou have always found a way around them. Looking back, he does not think they would have done anything differently. Their foundations were strong to start with and their strategy – to build a strong business through strong and just relationships – has proved successful.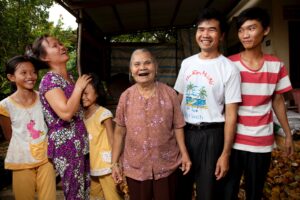 As Maruta looks forward, he views Marou's leadership model, that relies on relationships, quality and sustainability, as scalable. "It should get easier, not more difficult as we get bigger. And the bigger we get, the more significant our impact". 
And to emphasize this point, Maruta maintains: "Marou is founded on the well-being of its cacao farmers, employees and the environment. We can only make fine quality Vietnamese chocolate if the cacao is treated with care and skill by all the hands it passes through – from cultivation on the farm to fermentation, roasting and grinding, to being made into fine pastries, and served in the café". 
Oh boy Charlie! I feel like him right now from the wonderful Roald Dahl book 'Charlie and the Chocolate Factory'. As Dahl writes:
"He turned and reached behind him for the chocolate bar, then he turned back again and handed it to Charlie. Charlie grabbed it and quickly tore off the wrapper and took an enormous bite. Then he took another…and another…and oh, the joy…"
Oh, the joy… in eating chocolate that both tastes good and does good!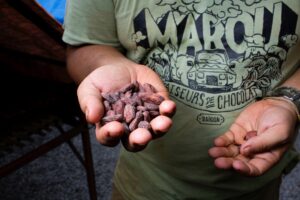 ---
For more information: 
About Samuel Maruta – Chairman & Co-Founder, MAROU, Faiseurs de Chocolat
About Vincent Mourou, CEO & Co-Founder, MAROU, Faiseurs de Chocolat
About Marou Chocolate Company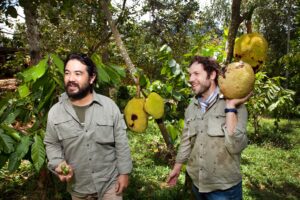 Marou Faiseurs de Chocolat was founded by Samuel Maruta and Vincent Mourou in 2011. The two Frenchmen created the first bean-to-bar chocolate maker in Vietnam, using exclusively selected Vietnamese cacao and transforming it into premium chocolate in the same country. Our chocolate factory is located in the Thu Duc district of Ho Chi Minh City, Vietnam's largest city, where we produce our artisan dark chocolate bars. The bars are sold in speciality stores in Vietnam and overseas.  
In 2016 we opened our first Maison Marou in Ho Chi Minh City, then in 2017 we opened Maison Marou Hanoi, which brings the same concept to Vietnam's capital. More than just a café and retail place, both Maison Marou are small but fully functional bean-to-bar chocolate factories where customers can see cacao turn into chocolate and pastry. 
We are a small craft chocolate maker, making high-quality chocolate bars. All the ingredients are sourced from Vietnam. The beans come from different regions across the southern part of the country, where the climate is suitable for growing cacao. Each region is represented by its own bar, and this brings out the particular flavor characteristics of the different beans, it's the characteristic 'Terroir' concept applied to chocolate, instead of wine. Made in Vietnam, our bars are now sold and enjoyed around the world. 
First published on October 5, 2018 on Linkedin.