Interview by Christina Ameln, Sustainability Strategist, Purple IVY –
"The (COVID-19) crisis serves as a stern reminder of the need for the sustainability movement to focus its efforts on long-term solutions – not quick fixes – so business models and infrastructure can endure and even prosper in times of crisis like now" says Rob Kaplan, Founder and CEO of Circulate Capital.
In the second part of our discussion, I ask Rob, among other issues:  how, together with its founding investors, Circulate Capital is solving supply chain problems; how entrepreneurs inspire him; and how he invites more start-ups and SMEs to join the fight against plastic waste.
I am most impressed by Rob's points about increased use of plastics due to COVID-19 and  his conviction that we must transform the issue of plastic waste from a 'scourge' to an opportunity.
---
Rob is Founder and CEO of Circulate Capital. He established Circulate Capital to deploy catalytic capital in partnership with leading corporations and investors to scale solutions that advance the circular economy and prevent the flow of plastic waste into the ocean in South and Southeast Asia.
What has been your favourite impact so far?
We are still at the beginning of our journey, but I would say the first critical step was to mobilize leading global companies to build circular value chains that turn waste from a cost into a benefit.
Our founding investors – PepsiCo, Procter & Gamble, Dow, Danone, CHANEL, Unilever, The Coca-Cola Company and CP Chem – are actively working with us to invest in scalable solutions that enhance their supply chains.
Their local, regional, and global teams engage with us to identify potential investment opportunities and also find ways to connect them into their own value chains. These discussions involve representatives from procurement, R+D, sustainability, and more to drive change in each market where we are investing.
They seek more than just a financial return; they expect to solve a supply chain issue. Specifically, they expect to see a tangible movement of the needle on the issue of plastic waste and the development of a circular economy.
What inspires you?
I am most inspired by the entrepreneurs that we get to support across South and Southeast Asia.
A few weeks ago, we announced our inaugural investments in two recycling companies, Lucro, in India and Tridi Oasis, in Indonesia.  These two companies are led by inspiring entrepreneurs, best-in-class operators working at the forefront of plastic recycling in their respective markets, turning local plastic waste into an opportunity for the benefit of the environment and the communities they work in, and to advance the circular economy:
Lucro is an Indian manufacturer that specialises in recycling difficult-to-manage flexible plastic for its own production and for sale as high-quality commodities to other facilities across the country.
Tridi Oasis is an Indonesian start-up specialised in recycling PET bottles into rPET flakes, which are used to manufacture circular packaging and textiles.
Some of the key things that stood out to us about both these companies are their excellent leadership teams whose entrepreneurial mindset has driven the success of the business to date and position them well as they pursue their growth agenda. They both have established solid operations, with a clear focus on traceability which is key in the recycling space, and a sound business model, which provides significant opportunity to scale.
How do you see the year evolve?
COVID-19 is further exposing the enormous scale of investment we need in the circular economy to stem the tide, particularly in regions of the world where they are the most fragile and the investment capital can have the biggest impact, like South and Southeast Asia (SSEA).
What's more, the crisis serves as a stern reminder for the need for the sustainability movement to focus its efforts on long-term solutions – not quick fixes – so business models and infrastructure can endure and even prosper in times of crisis like now. It will be critical to double down all investment efforts on solving today's challenges while making it right for the future.
I am looking forward to finalizing more investments because by investing in small and medium enterprises that are creating solutions to address plastic pollution and advance the circular economy in emerging markets, we can help to build sustainable businesses and value chains that can endure through a crisis.
How do you anticipate the COVID-19 crisis to impact plastic and what can be done?
The effects of COVID-19 are quickly being felt in nearly every corner of the globe and in nearly every aspect of our lives so it's not a surprise that this should extend to plastic and waste management.
First, there is an increase in demand for single-use plastics. Second, there is an increased likelihood that the virus will affect the front lines of workers in the waste management sector, especially among the already at-risk populations of waste pickers in the informal sector. Without proper gear they will be exposed to the virus and for these reasons some of these groups have already gone on strike.
At the same time, recyclers are being hurt by downward pressure on the value of their commodities thanks to the drop in oil prices that is making virgin plastic cheaper. COVID-19 plus the oil price war is a double hit for local circular economies around the world.
Because plastic waste is going to increase, now potentially at an even more rapid pace, we need to find ways for those on the front lines of this challenge – small to mid-sized enterprises (SMEs) in our recycling and waste management sectors – to make money from this waste so it becomes a resource and not a scourge.
Any last words that you would like mentioned?
As we are actively looking for investment opportunities in Vietnam, I invite Vietnamese start-ups and SMEs that are developing innovative solutions that support our mission to apply for funding on Circulate Capital's website.
And I invite your readers who are interested in our work to follow us on Twitter, LinkedIn and subscribe to our newsletter.
---
---
For more information:
About Rob Kaplan, Founder & CEO of Circulate Capital 
https://www.circulatecapital.com/rob-kaplan 
Rob is Founder and CEO of Circulate Capital. Rob leads Circulate Capital's strategy, team, and operations as the firm identifies, incubates, and invests in opportunities diverting waste from the environment into the recycling chain in South and Southeast Asian countries. Circulate Capital's model relies on supporting the local innovators implementing solutions on the ground, on partnerships with global corporations to leverage their supply chains to drive scale, and on incentivizing a new generation of entrepreneurs to build a fresh pipeline of investable projects.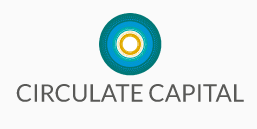 About Circulate Capital
Circulate Capital established the world's first investment fund dedicated to funding start-ups and SMEs that prevent ocean plastic and advance the circular economy in South and Southeast Asia.
The US$106M Circulate Capital Ocean Fund (CCOF) is a new, blended financing mechanism, bringing together the public and private sectors to invest for maximum impact. It was created in partnership with leading global corporations including PepsiCo, Procter & Gamble, Dow, Danone, CHANEL, Unilever, The Coca-Cola Company and CP Chem and it is backed by the US International DFC in collaboration with USAID.
STRATEGIC TENETS
Investments not grants: Investments generate return that is key to pull other investors into the sector and and they also ensure investees' accountability and facilitate systemic change.
Systemic change: Capital is pooled from companies with a vested interest in increased recycling. Effect systemic change that no company can accomplish alone.
Scalability and replicability: Investments will be measured, evaluated and lessons learned shared to cultivate scalability and replicability.
Unlock co-investment: We will co-invest in selected projects with private investors, thereby crowding in additional capital.
To learn more go to –
Based on more than 100 interviews, this GA Circular study commissioned by Circulate Capital highlights six key COVID-19 impacts to the recycling value chain in India, Indonesia, Vietnam, Thailand and the Philippines, along with a three-phase plan to prevent lasting damage to the sector, protect the environment and local communities' livelihoods.