Interview by Christina Ameln, Sustainability Strategist, Purple IVY –
"All players have to do their part" in turning plastic waste into a resource. As waste becomes one of the big issues of this century, this is the only way I can wrap my mind around it. Like most people, I find the size and scale of the problem overwhelming. So in trying to understand this waste crisis, I  follow those who are tackling this growing emergency with innovation and creativity.  Rob Kaplan,  Founder & CEO of Circulate Capital, is one of those people. Circulate Capital is the first investment fund dedicated to funding start-ups and SMEs that prevent ocean plastic and advance a circular economy in South and Southeast Asia.
In my two-part interview, Rob covers a broad range of topics, from impact at infrastructure level to how consumers can change behaviors in ways that make a difference. He also talks impact and vision as well as the challenges faced by Circulate Capital; his own personal engagement; and, of course, issues specific to Vietnam.
---
Rob is Founder and CEO of Circulate Capital. He established Circulate Capital to deploy catalytic capital in partnership with leading corporations and investors to scale solutions that advance the circular economy and prevent the flow of plastic waste into the ocean in South and Southeast Asia.
Why work on these topics?
Ocean plastic is one of the most pressing environmental issues of our times but one that can be solved.
150 million tons of plastic are today in the ocean and 8 million tons are added each year which is the equivalent to a garbage truck of plastic being added each minute. Plastic will outweigh fish in the ocean by 2050. It is a loss of USUS$10.8 billion each year to the tourism, fishing and shipping industries in the Asia-Pacific region alone.
But when we take a step back 8 million tons is manageable. Singapore manages 8 million tons of waste per year. A 45% reduction of plastic leakage is possible by investing in waste management and recycling in 5 countries in Asia according to Ocean Conservancy.
I am convinced that investing in innovative local companies that are working to address the challenge of domestic waste is a critical step to reducing the flow of ocean plastic and that it will generate financial returns as well as positive socio-economic outcomes such as jobs, improved sanitation or the empowerment of women.
Moreover, the current COVID-19 crisis only underscores our need to double down on investments that turn plastic waste from an economic and environmental cost into a resource and valued commodity for the local communities in South and Southeast Asia where the crisis is at its most extreme and where more than half of ocean plastic originates. The UN Environment Programme urged Governments to consider waste management as an urgent and essential public service to minimise possible Covid-19 secondary impacts upon health and the environment. By investing in small and medium enterprises that are creating solutions to address plastic pollution and advance the circular economy in emerging markets, we can help to build sustainable businesses and value chains that can endure through a crisis.
Why move from the USA to Asia?
Asia's exponential growth has made it into a powerful economic force, but it also has placed the region at the heart of the ocean pollution crisis.
According to Ocean Conservancy, 75% of the plastic in the ocean was never collected as part of a formal waste management system, and 60% originates from five focus countries in Asia – China, Indonesia, the Philippines, Thailand and Vietnam.
The meteoric rise in consumption, and the single-use, disposable mindset that comes along with it, have far outpaced the modernization of recycling and waste management systems needed to cope with the consequences. However, by improving collection, sorting and recycling in these countries we can turn off the tap of plastic leakage.
We established the Circulate Capital Ocean Fund in Singapore and I relocated from the USA a year ago as investing in South and Southeast Asia and investing in waste management systems each require a 'local' presence, and Singapore is at the epicentre of our regional investment focus.
What is your vision?
To catalyze billions of dollars in capital to solve the ocean plastic crisis.  We need to ensure that waste is properly collected and managed on land to prevent it from leaking into the environment. By improving collection, sorting and recycling in South and Southeast Asian countries we can turn off the tap of plastic leakage. Our focus is on supporting local start-ups and small and medium enterprises turning local plastic waste into an opportunity for the benefit of the environment and the communities they work in. Ultimately, our vision is to develop a circular economy whereby we can take old plastics and turn them into a new, reusable resource for future materials.
We seek investment opportunities that can deliver both a financial and an impact return because it will take much more than the $100m we are investing to solve the ocean plastic problem. To attract institutional investors who are currently sitting on the sidelines to join us in this work, every investment must reduce plastic pollution and also demonstrate that investing in the waste, recycling, and the circular economy can generate attractive financial returns.
Why is Vietnam one of your markets?
Circulate Capital's target markets include India, Indonesia, Vietnam, Thailand and the Philippines – five countries that lack critical waste infrastructure and are some of the largest sources of plastic leakage into oceans.
Vietnam being part of the top five of the countries contributing the most to ocean plastic according to Prof. Jenna Jambeck's research, is a key priority market for us. The Vietnamese government is currently working on a national action plan to reduce marine debris by 2030, and additional financing in the waste and recycling sector will be crucial to achieving that goal.
There is a significant opportunity to invest in the waste and recycling space in Vietnam to not only help solve the plastic waste issue, but also capture the economic value of plastic for financial returns. As an industry that lacks a formal ecosystem, the waste and recycling sector is ripe for disruption – Accenture estimates there will be a US$4.5 trillion global opportunity by 2030 in the waste management space.
We are committed to investing in Vietnamese companies and see great opportunities to help entrepreneurs in this space. I invite Vietnamese start-ups and SMEs that are developing innovative solutions that meet with our mission to apply for funding on our website.
What is the main challenge for you?
The main challenge is to attract the billion dollars needed to solve the ocean plastic issue for good. The only way investors will act at scale to address this crisis is if they believe this is a money-making opportunity. We plan to demonstrate the investment marketplace and pave the way for the billions of dollars of institutional investment capital that are needed to create a lasting solution to the ocean plastic crisis. These investors are currently not enabled to fund solutions at scale because they don't have access to the information and tools they need, such as a visible pipeline or investment track records. This results in a failure of connection between capital and businesses.
At each stage of a company's growth, different forms of capital are necessary for the type of expansion that can enable conversion of waste into value. Patient and risk-tolerant capital is needed to incubate and invest in businesses and projects that will become the future of waste management and recycling across the region.
I also want to highlight that there are no magic solutions to solve the ocean plastic crisis. It is a systems problem that demands a systems solution. We can start now by supporting investment in South and Southeast Asia and providing entrepreneurs the resources they need to scale. However, it is only by catalyzing the actions of all actors and having a stake in solving the issue –whether it is private and public, for profit and non-profit – that we will solve the problem for good.
Waste collection and recycling infrastructure must be strengthened; packaging and products need to be redesigned, policies should be revised, and consumers' behaviors should change.
All players have to play their part.
---
Read Part 2 – Interview: Investing in Plastic Waste with Rob Kaplan, Founder & CEO of Circulate Capital (Part 2)
---
For more information:
About Rob Kaplan, Founder & CEO of Circulate Capital 
https://www.circulatecapital.com/rob-kaplan 
Rob is Founder and CEO of Circulate Capital. Rob leads Circulate Capital's strategy, team, and operations as the firm identifies, incubates, and invests in opportunities diverting waste from the environment into the recycling chain in South and Southeast Asian countries. Circulate Capital's model relies on supporting the local innovators implementing solutions on the ground, on partnerships with global corporations to leverage their supply chains to drive scale, and on incentivizing a new generation of entrepreneurs to build a fresh pipeline of investable projects.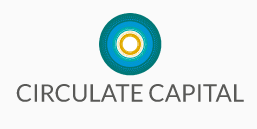 About Circulate Capital
Circulate Capital established the world's first investment fund dedicated to funding start-ups and SMEs that prevent ocean plastic and advance the circular economy in South and Southeast Asia.
The US$106M Circulate Capital Ocean Fund (CCOF) is a new, blended financing mechanism, bringing together the public and private sectors to invest for maximum impact. It was created in partnership with leading global corporations including PepsiCo, Procter & Gamble, Dow, Danone, CHANEL, Unilever, The Coca-Cola Company and CP Chem and it is backed by the US International DFC in collaboration with USAID.
STRATEGIC TENETS
Investments not grants: Investments generate return that is key to pull other investors into the sector and and they also ensure investees' accountability and facilitate systemic change.
Systemic change: Capital is pooled from companies with a vested interest in increased recycling. Effect systemic change that no company can accomplish alone.
Scalability and replicability: Investments will be measured, evaluated and lessons learned shared to cultivate scalability and replicability.
Unlock co-investment: We will co-invest in selected projects with private investors, thereby crowding in additional capital.
To learn more go to –
Based on more than 100 interviews, this GA Circular study commissioned by Circulate Capital highlights six key COVID-19 impacts to the recycling value chain in India, Indonesia, Vietnam, Thailand and the Philippines, along with a three-phase plan to prevent lasting damage to the sector, protect the environment and local communities' livelihoods.