As a conclusion to the COP26 and Vietnam's pledge to engage further in the Race to Zero emissions and to phase out coal-fired power, Christina Ameln, Sustainable Vietnam Founder and Purple IVY Sustainability Strategist, comments to BBC Vietnam on this commitment: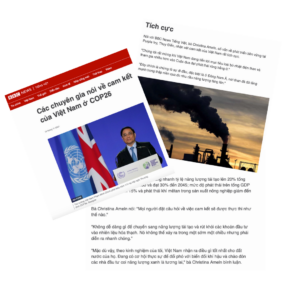 "We're all excited that Vietnam's stepping up to the plate to phase out coal-fired power and engage more in the Race to Zero. This is leadership, especially in Southeast Asia where coal has surged in the last decade due to the increased demand for energy.
I also see people questioning how the pledge will be delivered. It's no easy task to shift to renewable energy and back away from investments made in fossil fuels. It's not going to happen overnight but it has to happen without delay.
Though, in my experience, Vietnam sees what's best for the country. There is real opportunity to tackle climate change and welcome the growing number of investors that see green energy as the future."
For the full BBC Vietnam article – Experts talk on Vietnam's Commitment at COP26 (in Vietnamese).
---
For more articles from Sustainable Vietnam on COP26 : 
---
All views and opinions expressed on this site are those of the individual authors and comments on this site are the sole responsibility of the individual contributor.