By Sophie Hartman, Nguyễn Thị Thu Thảo and Võ Thị Quế Chi, IECD – Institut Européen de Coopération et de Développement – 
Long considered pivotal in addressing the issues and opportunities involved in tourism operations, sustainable tourism is now more relevant and urgent than ever before. In view of COVID-19 and its ongoing impacts, tourism and hospitality is undergoing deep transformation to overcome the crisis. The necessity to improve travelers' experience to attract customers back has put destinations' sustainability, whether in terms of community involvement or greater connection with nature, at the core of the tourism recovery debate. By training responsible workers of tomorrow and implementing green practices in their own operations, educational institutions can accelerate the sector's transition to a more environmentally responsible business model.
A unique opportunity to build back better
Over the past decades, tourism has experienced continued expansion, becoming one of the largest and fastest-growing economic sectors in the world. It has created significant benefits in terms of socioeconomic development, especially employment.
This growth however represents various challenges for destinations such as consumption of natural resources, impacts on climate change, and carrying capacity. According to the World Tourism Organization and the International Transport Forum, tourism is a significant contributor to climate change, with five percent of global carbon dioxide emissions attributable to tourism-related transport alone[1].
In Vietnam, the government passed in November 2020 a new Law on Environmental Protection and committed to a number of activities to tackle the pressing issue of plastic pollution. According to the Jambeck study[2]published in 2015, four Asian countries — China, Indonesia, the Philippines, and Vietnam — account for about half the plastic waste that flows from land into the ocean. Tourism plays a role in marine litter, too. For example, the millions of travelers who visit Halong Bay every year put  pressure on its remarkable landscapes.
Before COVID-19, hundreds of ships used to stream in and out the bay every day, often discharging waste into the sea. Rising water pollution not only threatens the livelihood of communities living in the area, but it may also decrease the destination's appeal in the eyes of travelers. Pollution impacts are increasingly cited on review websites like TripAdvisor where visitors often point out the amount of trash in the water.
The COVID-19 crisis has been considered by many as a wake-up call for the industry. It has made more obvious tourism's influence on the economy, society, and environment. It has also highlighted the fragility of the natural environment and the need for conservation. Time for deep social and environmental change has come, and the downtime in global tourism activities has offered a golden opportunity for such a change to happen.
It starts at school: training the responsible workforce of tomorrow
The Association of Southeast Asian Social Enterprises for Training in Hospitality & Catering (ASSET-H&C) is a regional network of vocational schools that provide a path to employment in the tourism and hospitality sector for vulnerable youth. One of ASSET-H&C's missions is to leverage schools' commitment to sustainable practices and support them in going further through peer exchange and capacity building activities.
In 2017, at the request of members, the network launched the Ecospitality initiative to help them become pioneer actors in environmentally responsible tourism. As an initial step, environmental audits were carried out at 10 member schools in collaboration with Artelia Engineering Company. The process served to assess schools' environmental footprints, identify good practices, and provide guidance on taking concrete and easy-to-implement actions to reduce electricity and water consumption as well as to improve waste management.
This contributed to creating favorable environments where youth would be trained on sustainable development issues.
Accompanying tourism players on their sustainability journey
Good practices drawn from the observations and recommendations of Artelia were then compiled into an Eco-Guide for Hospitality Businesses and Schools. The guide was created to assist hospitality and tourism stakeholders on their journey to being eco-friendlier and more sustainable. It includes 55 tips and good practices to reduce the impact of tourism on the environment while making significant financial savings with easy-to-implement actions, accessible to anyone regardless of their technical background.
The Eco-Guide was originally published in English. To foster an inclusive approach to sustainability and to make it accessible to a wider audience, it has now been translated to Burmese, Khmer, Thai, and Vietnamese. Australian Volunteers International, GoGreen Cambodia, the Hospitality and Catering Training Centre, Myanmar Responsible Tourism Institute, Phuket Hotels Association, Sach va Xanh, Swiss Alumni Association Vietnam and Sala Baï Hotel and Restaurant School, all joined hands in making these translations available.
The growing demand for environmentally responsible tourism is more than just a trend; it represents a shift in customers' awareness and a call for action on a global emergency. As a result, tourism providers are adapting, and soon services and products that respond to this demand and contribute to making a positive impact will become predominant. To accompany tourism providers on this pathway toward greater sustainability, ASSET-H&C contributes to training tourism professionals on sustainability and provides accessible and easy guidance for tourism businesses to start taking action.
The Vietnamese version of the Eco-Guide is now available for free download on ASSET-H&C website.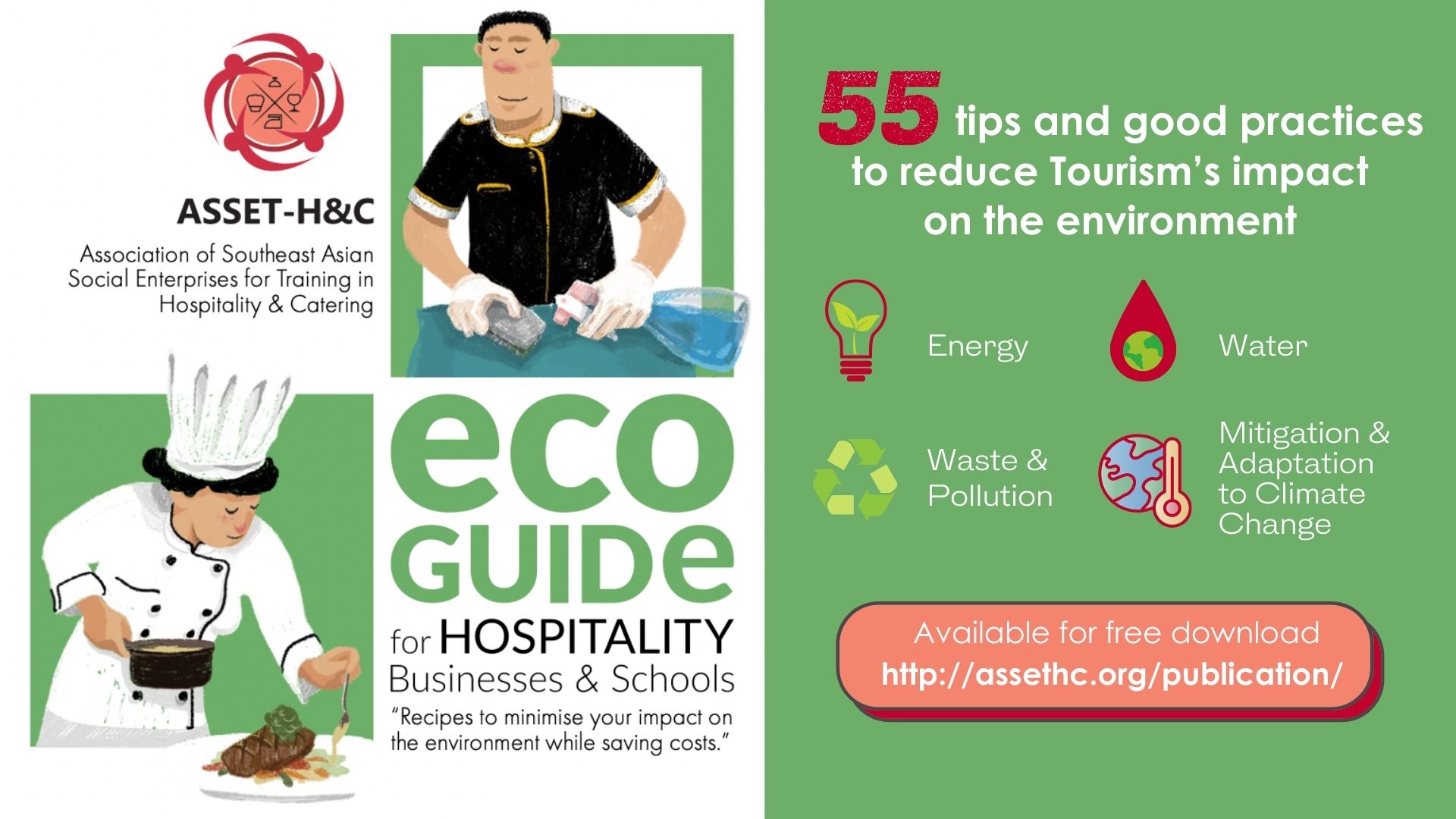 Keep your eyes open for the next article in the same series coming shortly  on Sustainable Vietnam: 
Developing human capital for sustainable tourism recovery in Vietnam and Southeast Asia.
---
[1] World Tourism Organization and International Transport Forum. (2019). Transport-related CO2 Emissions of the Tourism Sector – Modelling Results, retrieved from: https://doi.org/10.18111/9789284416660
[2] Jambeck, J. R., R. Geyer, C. Wilcox, T. R. Siegler, M. Perryman, A. Andrady, R. Narayan and K. L. Law (2015). "Plastic waste inputs from land into the ocean." Science 347(6223): 768-771
---
All views and opinions expressed on this site are those of the individual authors and comments on this site are the sole responsibility of the individual contributor.