By Sophie Hartman, Nguyen Thu Thao & Vo Thi Que Chi, Association of Southeast Asian Social Enterprises for Training in Hospitality & Catering (ASSET-H&C) – 
Over the last decades, the dynamic and fast-growing tourism industry has been a driving force for job creation, while contributing to some of the Sustainable Development Goals, particularly SDG 8 on decent work and economic growth, and SDG 10 on reduced inequalities.
Maintaining quality education and sustainable employment for youth during this time of COVID-19 pandemic is a challenge that tourism and hospitality schools have to tackle with great effort and flexibility.
The heavy impact of COVID-19 on young workers
The sector has been one of the most affected by the COVID-19, which has put numerous jobs at risk throughout the whole value chain.
With foreign tourist arrivals and tourism revenue falling by more than 50 percent in the first half of the year, Vietnam is unfortunately no exception to that. According to recent government's statistics on the workforce in the first two quarters of 2020, the average income of labor working in hotel and catering services decreased by 18.3%, making the sector the second worst affected industry during the pandemic[1].
Young people, who represent a considerable part of the industry workforce, are highly impacted by the drastic decline in tourism, especially vulnerable youth, often found amongst women, minority groups, and migrants. According to ILO's most recent data, three in four young workers worldwide are engaged in informal employment[2].  In most cases, these jobs are characterized by precarious working conditions, instability, a lack of legal and social protection, thus leaving workers especially vulnerable to the negative impacts of the COVID-19 crisis[3].
Young professionals also face more difficulties in finding a new job often due to their limited work experience. In the first two quarters of 2020, the unemployment rate of young people in Vietnam increased by 0.3% and is 3.6 times higher than that of adults[4].
Addressing students' most immediate needs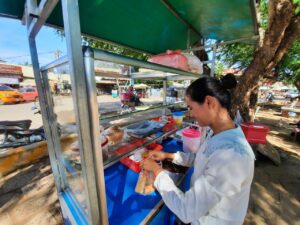 Across Southeast Asia, the members of ASSET-H&C, a network of tourism and hospitality vocational training centers targeting disadvantaged youth, are striving to continue supporting their students through these difficult times. At an early stage of the crisis, ensuring education continuity was the first priority for every member. Schools developed distance learning solutions with means at hand and demonstrated innovation in overcoming connectivity challenges. To keep students engaged and the training undisrupted, teachers produced educational videos,  organized live training sessions, and sent assignments through social networks.
Mr. Sovy LACH, Front Office trainer at  Sala Baï Hotel & Restaurant School, shared:"(during lockdown) I miss my students so much as well as the customers at our training hotel. I still contact my students by phone and Facebook messenger group when possible. What I am concerned about is my students losing their motivation if the school remains closed for too long. Moreover, I have some difficulties contacting them because of poor network connection. Hopefully, the school will reopen soon, and I wish all my students will keep learning and focusing on their skills!" –
Some schools also offered extra support to students and their families during the lockdown such as in-kind donations or increased monthly allowance for students to allow them to buy data to access distance learning.  For example, PSE – Pour un Sourire d'Enfant, and Sanon Training restaurant, ASSET-H&C members in Cambodia and Myanmar, took proactive initiatives in fundraising and providing emergency packages including rice, food and hygiene products, to students and their families.
Preparing for change in the long run
People are the essence of tourism. Hence, the future of the industry is highly dependent on the resilience of its workforce.
To contribute to a human-centered approach to the sector's recovery, schools maintain close relationships with companies to better understand their situation. This allows pedagogical teams to adapt their processes and training models to the new reality. Particular focus is given to hygiene, new technologies, soft skills,  and also entrepreneurship or skills transferable to other industries in order to maximize students' chances to find sustainable employment.
To mitigate the impact of the crisis on internships and job placements, schools are expanding and diversifying their networks of industry partners. Enhanced professional integration support is also offered to students and alumni.
For example, the Hospitality-Catering Training Center (HCTC) in Thailand, whose students graduated just one day before the lockout was declared, followed up more closely on fresh graduates. These efforts paid off. In October 2020, 74% of the graduates were in – or back to – employment. Among them was Sornram.  After his internship, he was hired as "in-villa dining host" at Soneva Kiri – a luxury hotel and a pioneer company in sustainable development in Thailand. Thanks to the support of his teachers, he was able to keep his job placement during the crisis. Sornram received an allowance from his employer despite the partial closure of the company between May to September. Since early September, he has started as a full-time member to prepare the re-opening of the resort which is expected in November.
Meanwhile, other schools have been supporting alumni on their path to self-employment. Chandy is a second-generation alumni of EGBOK, an ASSET-H&C member school in Siem Reap, Cambodia. She was laid off from her regular F&B position after COVID-19 outbreak. Unfazed by the situation, she instead saw it as an opportunity to start her own business. She decided to serve restaurant-standard food with a street cart in downtown Siem Reap. The technical and problem-solving skills that she acquired from the school came in particularly handy. Her small business is now making profit and Chandy can cover her own living expenses as well as support her family.
Join us for a debate on sustainable employment for youth in tourism and hospitality
COVID-19 has created a necessity and an opportunity for the labor-intensive tourism industry to re-engage with its workforce and re-invent the workplace. As critical agents for change, youth can play a significant role in enhancing the sector's capacity to face and overcome challenges. To empower them to fulfil their potential, it requires greater investment in human capital.
This will be further discussed during the Webinar "Preparing For Tomorrow: Empowering Young Workers For A Resilient Tourism Industry" organized by ASSET-H&C in partnership with Pacific Asia Travel Association.
To explore this important topic with us, along with speakers from the Global Sustainable Tourism Council, the International Labor Organization, Minor Hotels, Soneva Resorts and the Sustainable Hospitality Alliance (formerly known as International Tourism Partnership), join us on Tuesday 10th November 2020, 4.00 PM (GMT+7).
---
To read more, head to –TOURISM, SOCIAL ENTREPRENEURSHIP & SUSTAINABILITY: HOW VOCATIONAL TRAINING IS FILLING A GAP.
---
[1] Vietnam General Statistics Office. Thông cáo báo chí Tình hình Lao động việc làm Quý II và 6 tháng đầu năm 2020 (Press release: Labour and Employment Status of Quarter 2 and First 6 months of 2020). 10 July 2020 (Link: https://www.gso.gov.vn/default.aspx?tabid=382&idmid=2&ItemID=19674)
[2] ILO. Global Employment Trends for Youth 2020. 2020
[3] ILO. Thematic brief: COVID-19 and employment in the tourism sector: Impact and response in Asia and the Pacific. 24 April 2020
[4] Vietnam General Statistics Office. Thông cáo báo chí Tình hình Lao động việc làm Quý II và 6 tháng đầu năm 2020 (Press release: Labour and Employment Status of Quarter 2 and First 6 months of 2020). 10 July 2020 (Link: https://www.gso.gov.vn/default.aspx?tabid=382&idmid=2&ItemID=19674)
---