By Sophie Hartman, Nguyễn Thị Thu Thảo and Võ Thị Quế Chi, IECD – Institut Européen de Coopération et de Développement – 
COVID-19 has made travelers more aware of their impact on the environment and local communities. 53% of global travelers will be seeking more sustainable tourism products and services in the future, according to the Future of Travel Report by Booking.com[1]. As tourism and hospitality is a labor-intensive industry, it is indisputable that human resources are essential to convert into action any sustainability strategy or policy. A workforce that is equipped with the knowledge and skills for more sustainable operations is a great asset for any tourism provider to smoothly adapt to such a demand.
The Association of Southeast Asian Social Enterprises for Training in Hospitality & Catering (ASSET-H&C) is a regional network of vocational schools that provide a path to employment in the tourism and hospitality sector for vulnerable youth. Besides offering disadvantaged populations a means of social mobility, its members also strive to shape a new generation of responsible tourism workers.
At these schools, students learn both technical and transversal competences to become not only highly skilled professionals but also responsible and autonomous adults who can be agents of their own development. The schools also champion greener and more sustainable tourism practices and incorporate them into their training and operations to inspire students to take actions.
Here are some examples:
Eco-Friendly buildings at Spoons Cambodia and An Rê Mai Sen Hospitality Training Center
"Out of sight, out of mind". Therefore, at these schools, sustainability begins with bridging the psychological gap for students through the very design of facilities on campus.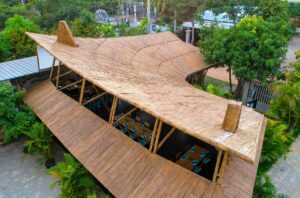 The cafe of  SPOONS Cambodia (formerly known as EGBOK) is an impressive bamboo building that serves as a model for sustainable construction. Bamboo, as a natural construction material, allows for a smart design that optimizes natural lighting and airflows, significantly reducing the need for energy consumption. The school even incorporates bamboo into various design elements as well as merchandise like candle holders and napkin rings. Most importantly, in choosing sustainably-sourced bamboo, the school helps raise awareness about the issue of deforestation in Cambodia while contributing to the livelihood of indigenous communities living around bamboo forest areas.
Meanwhile in Ho Chi Minh City,  An Rê Mai Sen Hospitality Training Center has constructed students' dorms with eco-friendly bricks made from recycled industrial waste. These bricks have less material wastage, and they do not require firing at all as alkali-activation technology enables them to set at an ambient temperature. Another area that the team commits themselves to is reducing waste in daily operations. At the school's restaurant, plastic straws have been replaced by paper ones. For trash cans, the staff uses self-dissolving bags made from natural ingredients such as corn oil, starch, fruit peel, and plants. Finally, organic waste is set aside for composting.
Saving energy, money and increasing occupants' well-being at Don Bosco Hotel School
Beyond using eco-friendly construction material, schools also incorporate simple elements in their buildings to reduce energy consumption. As a first step, the team at Don Bosco Hotel School in Sihanoukville has installed electric meters and records consumption on a regular basis in order to assess the necessity and opportunities to reduce consumption. Signages are placed across the buildings to remind occupants of the importance of saving energy for both environmental and financial purposes.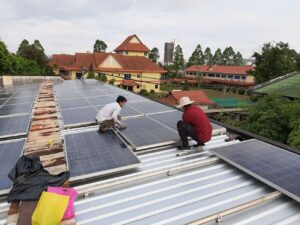 Furthermore, various measures have been taken in order to make lighting more cost-effective. On the campus, incandescent lamps have progressively been replaced by LED lights. While the price of LED lights is higher than traditional incandescent ones, newer lights cost less to operate, saving more money over the lifespan of the light. In addition, motion sensors, which turn lights on and off when needed, have been installed in public areas to further optimize energy consumption. Efficient lighting systems have reduced energy consumption, but more importantly they have improved the working environment and enhanced occupants' well-being by reducing eye strain.
Sustainable raw material and packaging at La Boulangerie Française
Investing in sustainable alternatives is beneficial for not only the environment but also the business. La Boulangerie Française – HCMC uses standardized high-quality cardboard boxes for their product packaging and delivery. This requires more investment but proves to be cost-effective as these boxes can be recollected from customers and reused, ultimately halving the initial cost. Besides, a standardized design makes it easier to reuse the boxes and therefore minimize waste.
La Boulangerie Française's Student Field Trip to Cocoa FarmAdditionally, the social enterprise prioritizes local and responsible suppliers to reduce its carbon footprint and contribute to sustainable livelihood. For example, they source chocolate from Puratos Grand-Place, a Vietnamese chocolate production company known for their Cocoa Trace program that combines environmental, financial and human-centered initiatives to improve the lives and practices of cocoa farmers. The partnership moreover offers La Boulangerie Française – HCMC's students opportunities to learn about high quality ingredients and sustainable agriculture through field trips to their cocoa farms, amplifying both parties' share in creating better environmental awareness for future generations.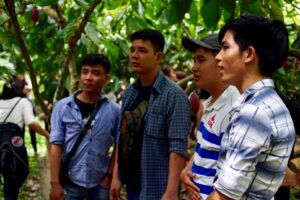 All of these practices have helped the school build satisfaction and strong brand loyalty from environmentally conscious and socially responsible consumers.
To accompany tourism providers on their pathway toward greater sustainability, ASSET-H&C contributes to training tourism professionals on sustainability and provides accessible and easy guidance for tourism companies to start taking action in its Eco-Guide for hospitality businesses and schools.
The Vietnamese version of the Eco-Guide is now available for free download on ASSET-H&C website.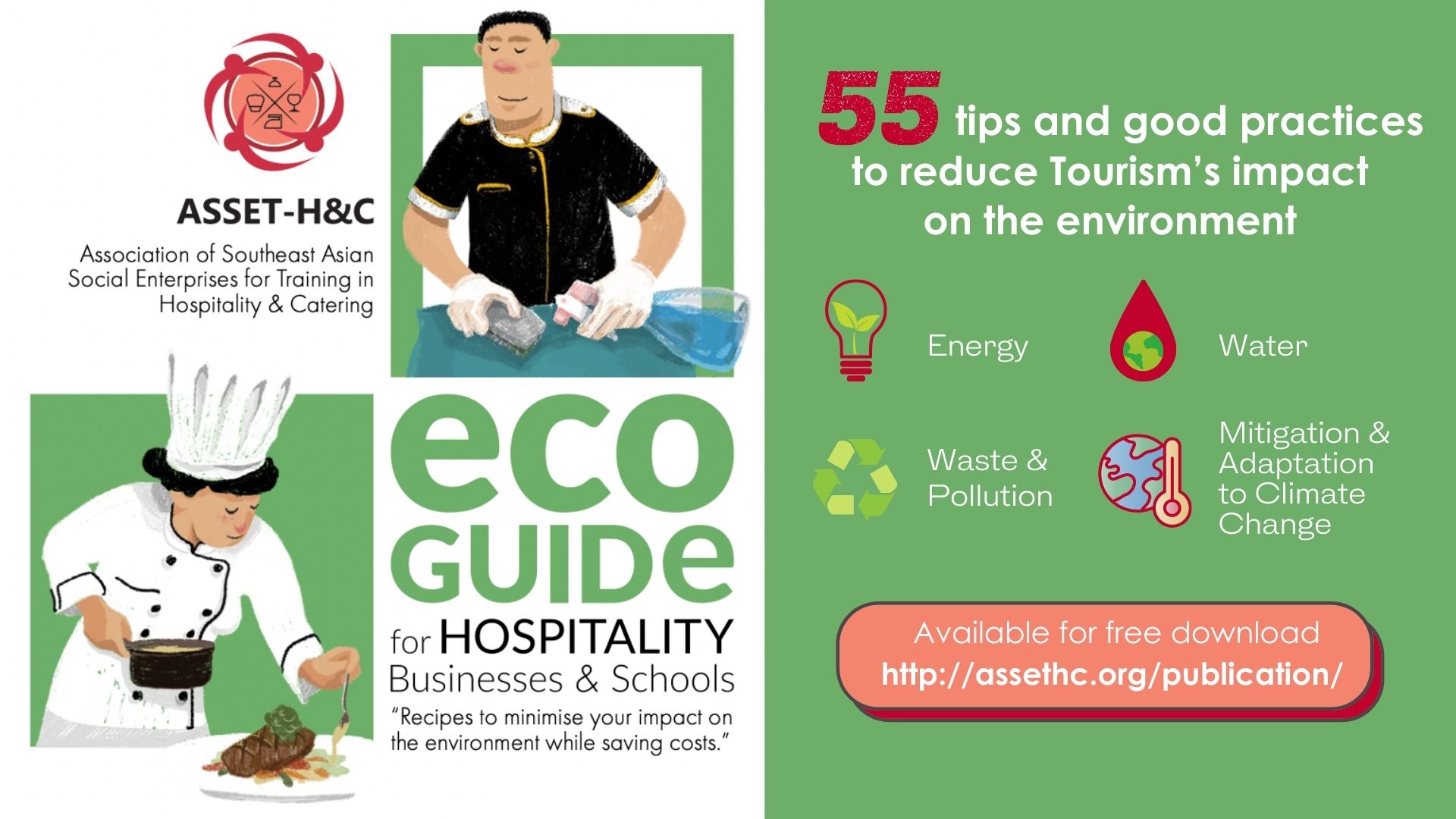 ---
[1] Booking.com. (2020) Smarter, Kinder, Safer: Booking.com Reveals Nine Predictions For The Future of Travel Retrieved from https://globalnews.booking.com/smarter-kinder-safer-bookingcom-reveals-nine-predictions-for-the-future-of-travel/
---
All views and opinions expressed on this site are those of the individual authors and comments on this site are the sole responsibility of the individual contributor.