By John Ditty, Partner, Corporate Citizenship, KPMG Vietnam –
LIN Center for Community Development will be holding a series of articles in the run up to its LIN Annual Cross Sector Conference on 26-27 August, 2021. Corporate sponsor and LIN event speaker, John Ditty, Partner, Corporate Citizenship at KPMG Vietnam, writes about LIN as a bridge that connects sectors; and how KPMG contributes to this community through IMPACT and a key cornerstone – trust. 
---
The LIN Annual Cross-sector Conference is a bridge, I believe, that connects corporate, non-profit and community organisations.
The conference brings together stakeholders and gives them the opportunity to raise their voices, to share their insights, knowledge and experiences and to collaborate with others who are interested in the betterment of our society.
The topics and agenda for each year's conference are relevant to the times and the sharing of the participants has a positive impact on all of the organisations and people involved.
Making a difference through IMPACT 
At KPMG impact is more than a word used in day to day settings.  At KPMG, we have an Impact plan which assesses our impact on our world and we have KPMG IMPACT, which is a platform to support and empower KPMG professionals to assist clients in fulfilling their purpose and helping deliver on the UN Sustainable Development Goals.
Impact or IMPACT is about how we make a difference, how significant an effect our activities have on all of our stakeholders and what we are contributing to building more sustainable communities and a more sustainable world.
Our Purpose is to Inspire Confidence and Empower Change and through delivering on this purpose we have an effect on all of our stakeholders – our people, our clients and our communities.
If we do this successfully we know we are making a positive and sustainable impact.
Trust – the promise of excellence 
Trust is at the cornerstone of all that we do at KPMG; it always has and always will underpin our growth and success.
Our ambition is to be the most trusted and trustworthy professional services firm and to do this we need, amongst other things, to consistently live and demonstrate our values of Integrity, Excellence, Courage, Together and For Better.
We need to build a diverse and inclusive culture, we need to deliver services of the highest quality and we need all of our stakeholders to believe in what we say and do.
Our stakeholders need to see that we are authentic, that we "walk the talk" and that we always act in the best interests of society and not act out of self-interest.
At KPMG, we know that trust is earned by doing the right thing.
We are committed to the highest standards of personal and professional behaviors in everything we do.   Ethics and integrity are core to who we are and everyone at KPMG is held to this promise of excellence.
We know we are trusted because we have built a sustainable and respected business – our job is how to continue to build and enhance trust with our stakeholders to ensure that we remain the most trusted and trustworthy professional services firm.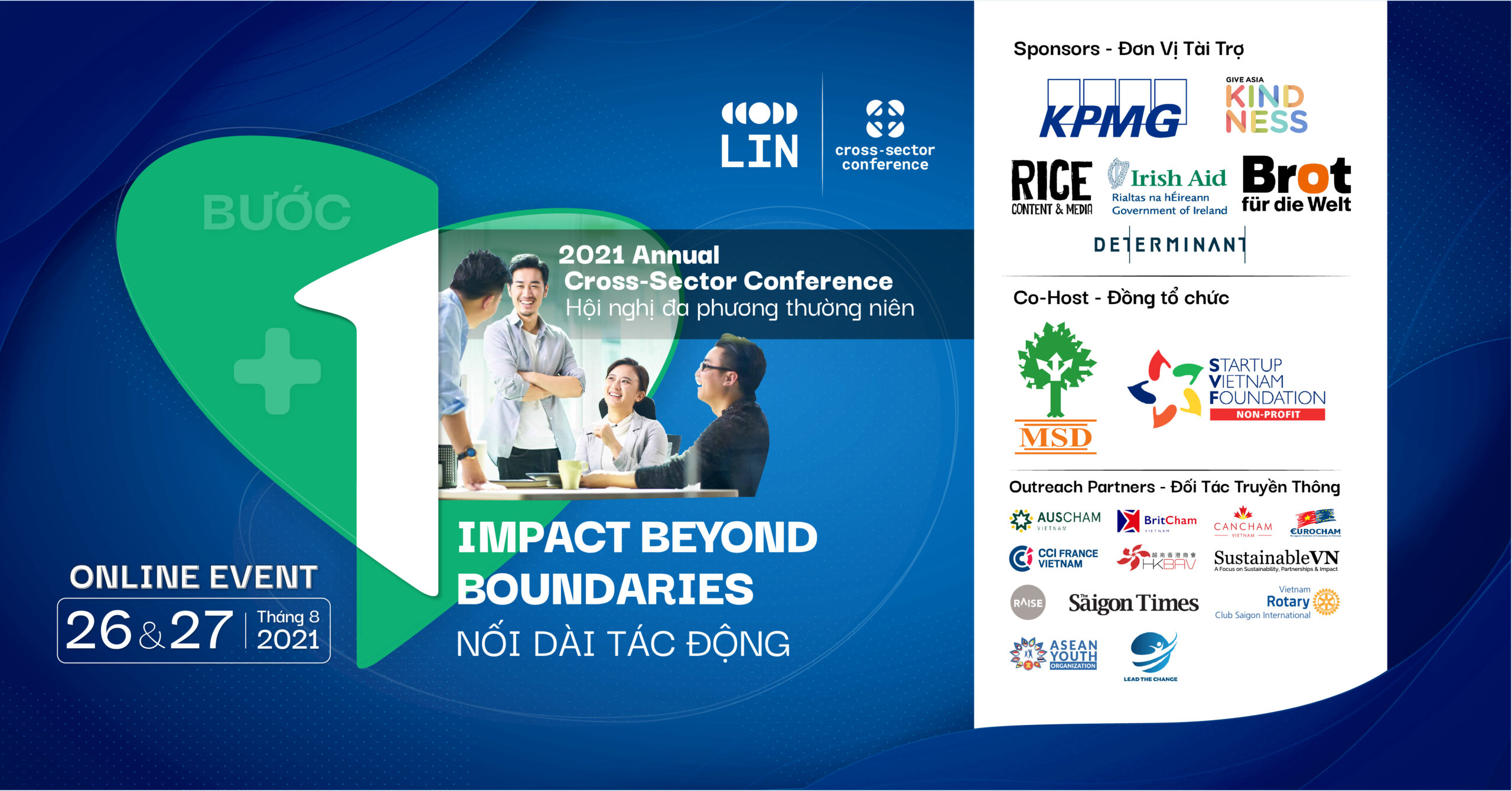 About the LIN Annual Cross-Sector Conference 
LIN's Annual Cross-Sector Conference is a first-of-its-kind and unique platform to build cross-sector partnerships for social impact. Every year, LIN brings leaders from different sectors together to share their partnership stories in creating social impact in Vietnam, promotes best practices and practical examples of building trust-based partnerships across the private, public, and nonprofit sectors.
In light of the complicated Covid-19 situation in Hanoi and HCM, we have decided to change the format of the Annual Cross-Sector Conference 2021 from a planned live conference to a 100% virtual conference.
On this year theme "Impact Beyond Boundaries", we will focus on three key stages of the journey of a trust-based partnership and broken down our agenda into two half-day morning sessions as follows:
Day 1: 9:00 to 12:00, Thursday, 26th August 2021 – Vision & Engagement sessions
Day 2: 9:00 to 12:00, Friday, 27th August 2021 – Impact & Learning sessions (includes virtual networking).
You can also visit our Conference website to find out more information about the conference, our speakers and register for your ticket to attend the Conference – https://linvn.org/annual-cross-sector-conference-2021/.
To read all the articles, click on: 
---
All views and opinions expressed on this site are those of the individual authors and comments on this site are the sole responsibility of the individual contributor.