By Andy Ho & Ha Phan, Co-Founders of RICE Content & Media –
LIN Center for Community Development will be holding a series of articles in the run up to its LIN Annual Cross Sector Conference on 26-27 August, 2021. Event sponsor; and content and media company RICE with its co-founders Andy Ho and Ha Phan talk alignment with LIN's goals.  They believe that creating stronger connections in the community creates inspiration for greater impact and  greater trust; and they contribute through their skills in storytelling and filmmaking. 
---
Creating positive social impacts has always been RICE's CSR objective for years.
We use our storytelling and filmmaking skills to support and give platforms to NGOs and NPOs organizations to increase awareness of their organizations, to initiate engagements with the audience, and to raise funds.
LIN's Conference topic this year: "Impact Beyond Boundaries" absolutely aligns with our RICE's CSR social impact strategy.
Inspiration through connecting 
We strongly believe that after this conference, different participants with different backgrounds will understand the importance of social impact, community development, and trust-based partnerships, and thus; inspire each other and come together to create positive impacts.
We believe in the good LIN brings to the communities. We have experienced first-hand this connection between many good people whom have gone on to do great things together and with us.
The ripple effect of impact
This impact is like a pebble that can cause ripples through an entire lake.
It takes courage to throw the pebble at first, but when you have done it, it surely will create positive changes and transform the communities for the better.
The impact is the outcome out of all our efforts. If we do not achieve any results at all for all the good work that we put in, not just in the short term, then what is the point of doing anything at all?
The positive impact should not be restricted to just organizations but to the lives that we set out to change.
Trust creates greater things 
In our business, trust is one of the most important factors for us to choose a supplier, and for a client to choose us. We do believe, with trust, we can create more good works, and we do greater things.
Trust gets harder to get back each time we lose it.
Do not take it for granted.

RICE with LIN 
LIN owns a vision and mission that RICE has believed in and supported.
We have been helping LIN with the conference's communication materials for 4 years. With our time together, we have seen LIN's continually improve the focus of the events,  bring insightful knowledge to businesses, NGOs, non-profits (NPOs), government, and individuals.
LIN does have the power to bring all the sectors together.
About the LIN Annual Cross-Sector Conference 
LIN's Annual Cross-Sector Conference is a first-of-its-kind and unique platform to build cross-sector partnerships for social impact. Every year, LIN brings leaders from different sectors together to share their partnership stories in creating social impact in Vietnam, promotes best practices and practical examples of building trust-based partnerships across the private, public, and nonprofit sectors.
In light of the complicated Covid-19 situation in Hanoi and HCM, we have decided to change the format of the Annual Cross-Sector Conference 2021 from a planned live conference to a 100% virtual conference.
On this year theme "Impact Beyond Boundaries", we will focus on three key stages of the journey of a trust-based partnership and broken down our agenda into two half-day morning sessions as follows:
Day 1: 9:00 to 12:00, Thursday, 26th August 2021 – Vision & Engagement sessions
Day 2: 9:00 to 12:00, Friday, 27th August 2021 – Impact & Learning sessions (includes virtual networking).
You can also visit our Conference website to find out more information about the conference, our speakers and register for your ticket to attend the Conference – https://linvn.org/annual-cross-sector-conference-2021/.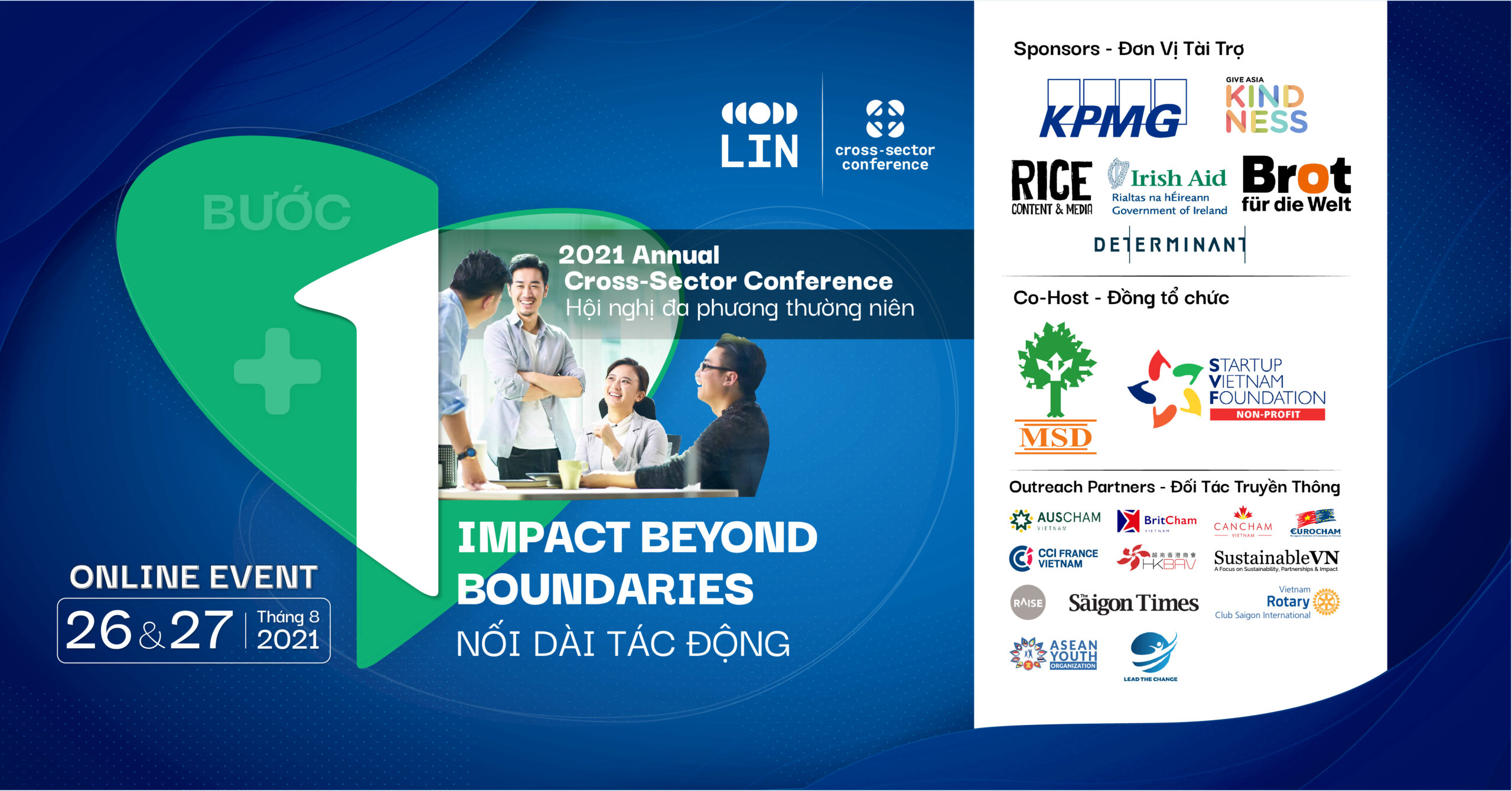 To read all the articles, click on: 
---
All views and opinions expressed on this site are those of the individual authors and comments on this site are the sole responsibility of the individual contributor.