By Ms. Đỗ Hồng Hạnh – Business Development Director, DETERMINANT, Sustainable Fashion – 
LIN Center for Community Development will be holding a series of articles in the run up to its LIN Annual Cross Sector Conference on 26-27 August, 2021. Event sponsor; and sustainable fashion company DETERMINANT is a game changer with its company story, its employees, its customers and those it partners with. Ms. Đỗ Hồng Hạnh, Business Development Director writes about collaboration and building trust. 
---
LIN Annual Cross-Sector Conference provides a much-needed platform for public and private stakeholders to exchange ideas and vision and look for collaborative opportunities to build a sustainable development agenda for Vietnam.
"Impact Beyond Boundaries", the theme of this year's conference, resonates well with the belief and motto of our DETERMINANT shirt brand. Everyone has a story and ours revolves around shirts.
Community of game changers 
Beyond our design and manufacturing prowess, DETERMINANT is made up of a group of people who want to be game changers. We want to live lives that are full and satisfying. And so we designed a fashion solution for customers like us who care not only about wearing smartly but also about wearing responsibly.
As a brand that is a solution, no action we take should add to the problems that we see and wish to change.
We are proud to say that DETERMINANT shirts are made with the highest environmental considerations and ethical standards. We operate on a green supply chain from 100% natural cotton material all the way to weaving, knitting, sewing and packaging that is focused on reducing carbon footprint.
DETERMINANT sources garments from responsible Esquel Group's integrated supplier chain, where its operation has saved 39% and 20% water and energy consumption respectively since 2010. We are also studying the opportunity to launch products with 100% recycled yarn, natural dyeing and green packaging. Our pride does not lie in providing fast fashion and promoting over-consumption.
Our pride is to promote responsible consumption through products of finest quality and lowest carbon footprint.
Our role during COVID-19 times
Amid the surging Covid situation in Vietnam and neighboring countries in the region, DETERMINANT is positioned to support the frontline healthcare workers and the community in any capacity possible.
We have donated millions of anti-bacterial treated fabric masks to the community and hospitals in Vietnam and other countries. Our reusable fabric masks provide a sustainable solution to protect our planet from over-discharge of single-use PPEs where medical masks are not required.
Building trust together 
We believe a business model that is based on trust between suppliers and brands as well as between brands and consumers is most sustainable. Trust is not gained from advertisement. It needs to be won from commitment and actions. We stand firm in not lowering our standards albeit the challenging business environment and disrupted supply chains.
We aim to build a trust that together, the DETERMINANT community which is comprised of our customers, suppliers, partners and ourselves, will contribute to a greener future for Vietnam.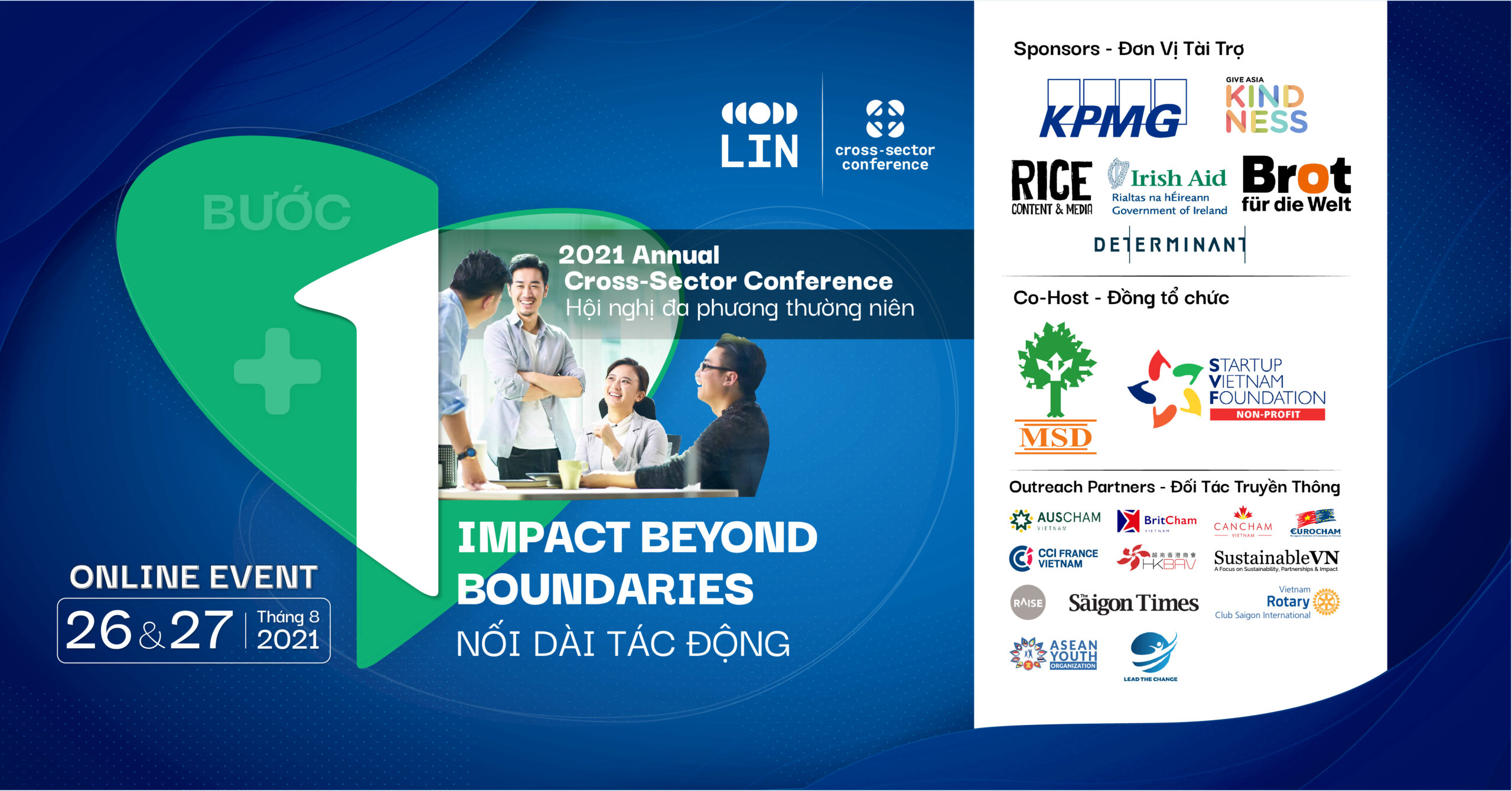 About the LIN Annual Cross-Sector Conference 
LIN's Annual Cross-Sector Conference is a first-of-its-kind and unique platform to build cross-sector partnerships for social impact. Every year, LIN brings leaders from different sectors together to share their partnership stories in creating social impact in Vietnam, promotes best practices and practical examples of building trust-based partnerships across the private, public, and nonprofit sectors.
In light of the complicated Covid-19 situation in Hanoi and HCM, we have decided to change the format of the Annual Cross-Sector Conference 2021 from a planned live conference to a 100% virtual conference.
On this year theme "Impact Beyond Boundaries", we will focus on three key stages of the journey of a trust-based partnership and broken down our agenda into two half-day morning sessions as follows:
Day 1: 9:00 to 12:00, Thursday, 26th August 2021 – Vision & Engagement sessions
Day 2: 9:00 to 12:00, Friday, 27th August 2021 – Impact & Learning sessions (includes virtual networking).
You can also visit our Conference website to find out more information about the conference, our speakers and register for your ticket to attend the Conference – https://linvn.org/annual-cross-sector-conference-2021/.
To read all the articles, click on: 
---
All views and opinions expressed on this site are those of the individual authors and comments on this site are the sole responsibility of the individual contributor.