By Ms. Thao Lam, Executive Director, LIN Center for Community Development –
LIN Center for Community Development will be holding a series of articles in the run up to its LIN Annual Cross Sector Conference on 26-27 August, 2021. Ms. Thao Lam is the Executive Director at LIN Center for Community Development, a local nonprofit organization with the mission to strengthen the community philanthropy ecosystem by advocating, connecting and providing resources for local nonprofit organizations, donors and volunteers to contribute towards sustainable development in Vietnam. In the first of its series, Lam shares her thoughts on social impact, sustainable development and bringing people to its annual conference. 
---
The Annnual Cross-Sector Conference aims to create a space to connect, inspire and share knowledge, experiences and success stories of cooperation towards social impact. The event organized by LIN Center is currently the only annual conference in Vietnam to promote cross sector cooperation towards creating social impact. Four years after its first launch, the Conference has become a "go-to place" for those who are interested in the issue of cooperation and social impact and sustainable development. The inspiration and positive energy from the speakers when they shared their stories in the conference was also something that always interested me.
Bringing Sustainable Development Closer to the Community 
Increasingly more domestic enterprises such as small and medium-sized enterprises are participating in the conference. This is a good sign that domestic businesses have begun to show interest in innovative and best practices for impact, going beyond charity-based. However, the majority of domestic enterprises still lacks a lot of information about this issue. Therefore, LIN Center wishes to bring the Conference closer to this community.
A common goal of the parties in partnerships must be about social impact and that is why this year's conference will focus on Impact Beyond Boundaries. This goal will help to engage and ensure the commitment of various parties in the cooperation. During our 12 years of supporting and partnering with NPOs, donors and volunteers, we found that each stakeholders has its own limits of resources and capacity to be able to solve community problems.
For example, enterprises can be "abundant" in terms of resources, human strength  but they often lack information, knowledge about social, environmental issues and long-term, sustainable solutions. While nonprofits, which are born to provide Community development solutions, are very resource-tight. In addition, most local organizations have limited capacity in terms of organizational development and governance, communication, financial management … to support their activities. All the while, we can't afford to just wait for the Government with their solutions because itsresources are not infinite.
In these situations, collaboration and cohesion between groups in the community becomes so vital to garner in order for solutions to community issues to be holistic, sustainable and impact-bound.
Trust-Based Partnerships 
I believe that in any partnership, not just cooperation towards social impact, trust always plays a very important role.
A trust-based partnership that aims to create social impact requires for these three focuses to happen:
having common goals for social impacts; 
balance of power; and 
transparency.
Building trust-based partnerships becomes especially important in the context of the uncertainty of a world during and after Covid-19, because it reduces doubts and hesitation in the process of making important and timely decisions for any one event in the context of either a project or an organization.
About the LIN Annual Cross-Sector Conference 
LIN's Annual Cross-Sector Conference is a first-of-its-kind and unique platform to build cross-sector partnerships for social impact. Every year, LIN brings leaders from different sectors together to share their partnership stories in creating social impact in Vietnam, promotes best practices and practical examples of building trust-based partnerships across the private, public, and nonprofit sectors.
In light of the complicated Covid-19 situation in Hanoi and HCM, we have decided to change the format of the Annual Cross-Sector Conference 2021 from a planned live conference to a 100% virtual conference.
On this year theme "Impact Beyond Boundaries", we will focus on three key stages of the journey of a trust-based partnership and broken down our agenda into two half-day morning sessions as follows:
Day 1: 9:00 to 12:00, Thursday, 26th August 2021 – Vision & Engagement sessions
Day 2: 9:00 to 12:00, Friday, 27th August 2021 – Impact & Learning sessions (includes virtual networking).
You can also visit our Conference website to find out more information about the conference, our speakers and register for your ticket to attend the Conference – https://linvn.org/annual-cross-sector-conference-2021/.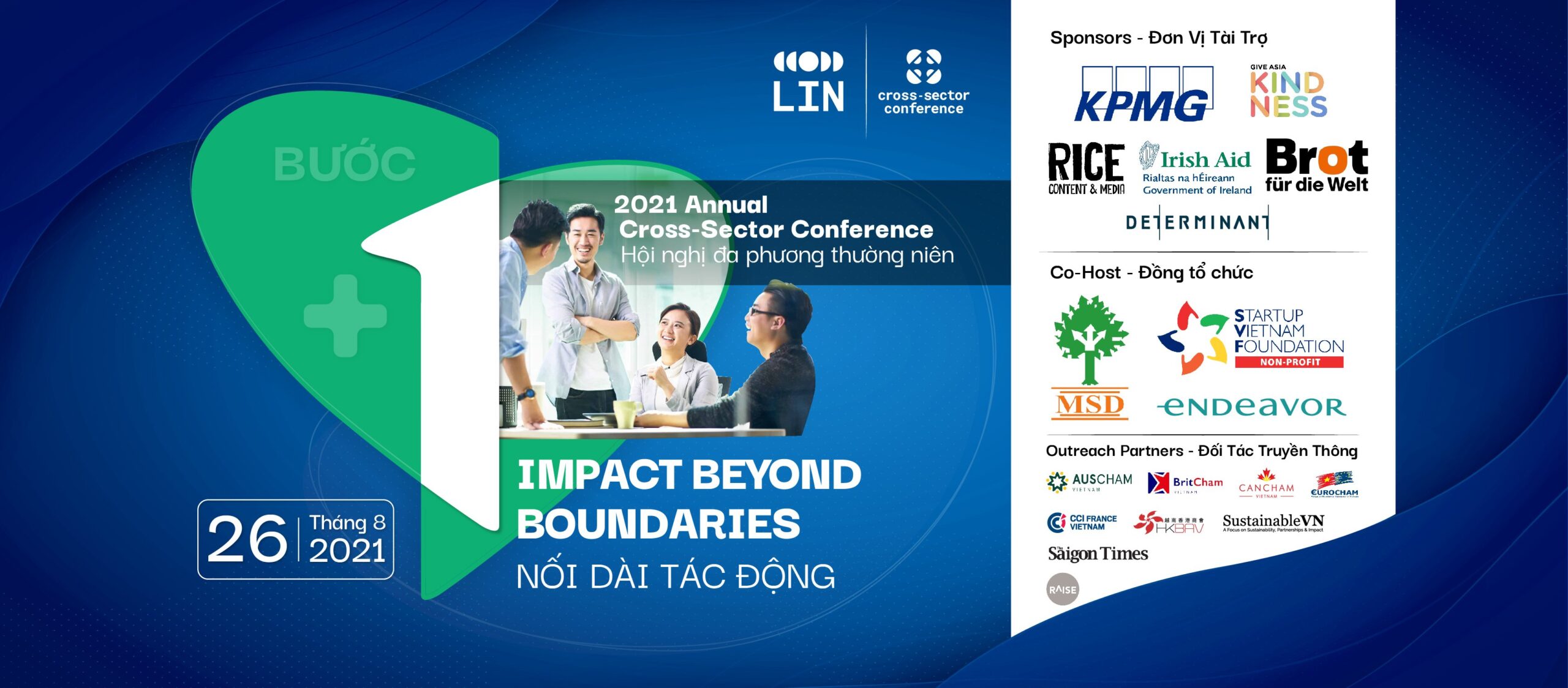 To read all the articles, click on: 
---
All views and opinions expressed on this site are those of the individual authors and comments on this site are the sole responsibility of the individual contributor.